Monochromatic Awards 2023
We want you to show us your photographs so we can show it to the world
Deadline: 30 June 2023
Entry fee: 30€
Submit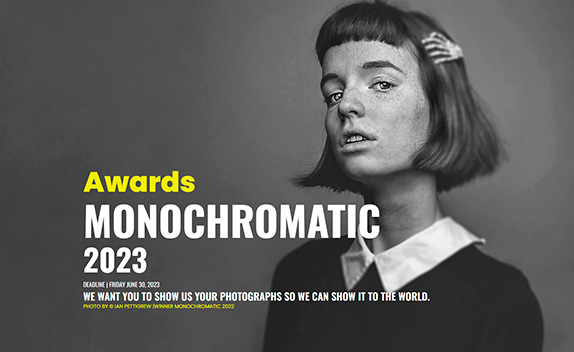 The contest is open to any interpretation of monochromatic photography, black and white, grayscale, sepia or any type of tone.
All the different photographic genres have their place in the Monochromatic Awards, photojournalism, portrait, nude, architecture, landscape, wildlife, abstraction, experimental, street photography, still life, artistic photography, or alternative processes. We look forward to seeing images with unique points of view and innovative approaches, as well as images that go within the more traditional ways of monochrome photography.
We believe that monochrome photography is truly unique, it is timeless, endowed with classic tints from when photographers only had this possibility, focused on shapes and tones as the only tool to captivate the viewer, to tell a story, or simply to capture an everyday reality.
After 10 years of promoting talented photographers, we have designed the Monochromatic Awards to discover incredible images and photographers who wish to take a step up in their career through recognition and international visibility that only the Monochromatic Awards can give them. Your images need to be seen and we will make it happen. We want you to show us your work so we can show it to the world.
An international jury composed by Roger Ballen, one of the most outstanding and important photographers of the 21st century. Anne Lena, director of the prestigious World Press Photo contest, Steven Lee, director of Kuala Lumpur International Photoawards, Gurdas dua, Brand Ambassador by Sony and the management team of Dodho Magazine will select the images and photographers awarded in this first edition of the Monochromatic Awards 2023. The winner of the competition will receive the title of Photographer of the Year and a cash prize, in addition to being published in a place of honor in the annual Monochromatic Awards book, along with the 100 finalists, second and third place winners and two honorable mentions. In addition, the 25 best images will be exhibited for one year in our online gallery, which receives thousands of visits from industry professionals.
Prizes:
Cash prize for the best photograph and photographer of 2023 | published as the best monochromatic pictures of the year 2023 | great exhibition of your work | certified as best monochrome photography of 2023
Eligibility:
All countries
Copyrights & Usage Rights:
The images copyright will be exclusively and at all times of the photographer and author of the image. The images will use strictly in relation to the Dodho prizes and will not be used for other purposes than the direct promotion of their authors. The images may not be used in any case by any third party without the express consent of the author and by written request, which will be sent to the author by email. Dodho is granted the right to publish the best works received in its online version and subsequent promotion in its social networks, always safeguarding authorship and copyright.
Theme: