MONOCHROMERIFIC 2nd edition
MONOCHROMERIFIC - forget the rest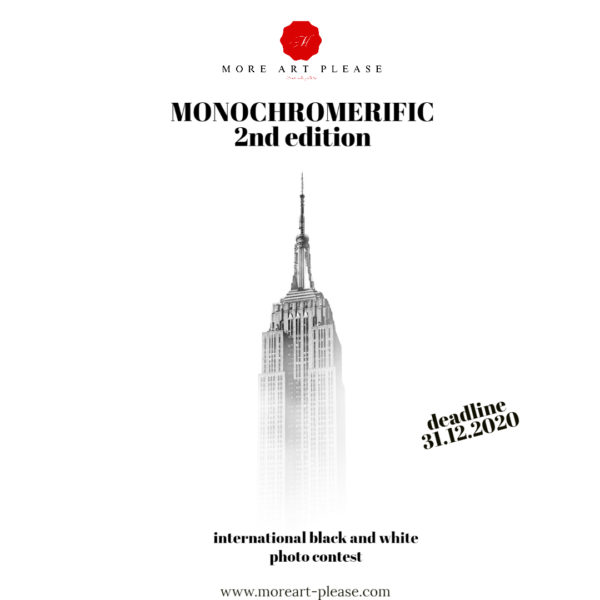 Photography was born black and white, and some photographers choose to continue this tradition, while working on evolving the visual aesthetics of this raw art form. From an artistic viewpoint; color depicts reality. Black and white is an interpretation of reality. Try and describe the feelings black and white photography evokes and you'll come up with words like classic, bold, raw, and natural. Whether it's capturing the texture of an object or seeing the form, shading, pattern or tone, black and white photography will give you a greater appreciation for life's little details.  Black and white photography is an interpretation of the world around us in differences of light values.  Black and white is one way of moving away from reality to infuse you work with aesthetics, and obtain a work that can be considered art.
Prizes:
This year we organize the second edition of MONOCHROMERIFIC and we offer 1000 euro for the best  black and white photo. All the selected works will be exhibit on line and published in MONOCHROMERIFIC  2nd edition album. The best photographer will be nominate as gallery ARTIST, will win 1000 euro and will receive the exhibition album and paper diploma. All the accepted photographers will receive online diplomas.
Eligibility:
Romania
Copyrights & Usage Rights:
By submitting works to this contest you confirm that for each work submitted:
You alone are the author of your work and that it is your original work.
You are the sole copyright holder.
You have not licensed any rights in the work that conflict with the usage rights required by More Art Please.
The photos will be used in order to promote the future contests, the artists and gallery, in any way, as long as it is needed.
You have the permission of any persons in the work, or if they are under 18, the consent of their parent or guardian, to grant the usage rights required by More Art Please.
That it does not include trademarks, contract rights, or any other intellectual property rights of any other third person or entity.
That it does not contain names, likenesses, or other characteristics identifying celebrities or other public figures, living or dead.
You will be responsible for any claim made by any third party in respect of your entry and for fully indemnifying More Art Please and its sponsors in respect of all royalties, fees and any other monies owing to any person or entity by reason of your breaching any of the foregoing.
More Art Please reserves the right, in its sole discretion, to disqualify any entry that does not comply with any of the above, even after the entry is submitted on the competition website.
Theme: