MonoVisions Photography Awards 2018
You can compete for $5000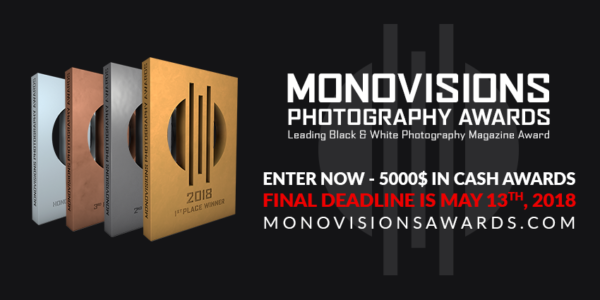 MonoVisions Photography Awards are an international open call for photographers using black and white medium to express their visual language.
Our aim is to discover the best monochrome photographers from all over the world and deliver the best opportunities to be recognized and rewarded for their work. You can compete for $5000 in cash prizes in two categories: Black and White Photo of the Year 2018 and Black and White Series of the Year 2018.
Our annual competition is open to photographers of all backgrounds and all levels, including - professionals and amateurs. We accept all forms of black and white photography created with traditional or digital methods.
Our categories: Abstract, Architecture, Conceptual, Fine Art, Landscapes, Nature and Wildlife, Nude, People, Photojournalism, Portrait, Street Photography and Travel.