My 20/20 World
Inside or out, online or in-person. What was your 20/20 vision?
Deadline: 13 January 2021
Entry fee: Members: $25 (1-2 pieces) Non-members: $35 (1-2 pieces) High School Student members: $15 (1-2 pieces) One additional entry: $10 (per person) No more than 3 works per artist. Entry fees are non-refundable.
Submit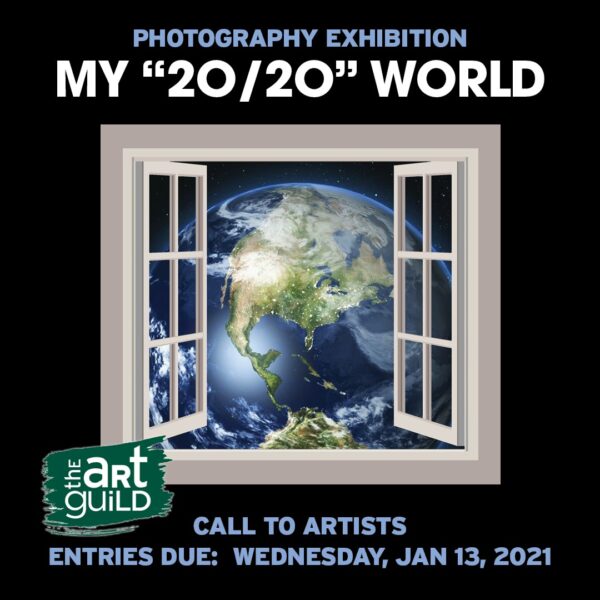 The Art Guild invites all photographers and artists, high school and older, to submit photography for consideration for My "20/20" World Photography Show, an Online Juried Competition and Exhibition.
What is your "20/20" vision? The past year limited our access to the world and posed unprecedented challenges. It also sparked our creativity. We photographed indoors; or, mask in place, we ventured out to capture new images. Perhaps past work came to mind and we used this time to review or revise it. Show us the art that shines through a difficult time. Your work will be exhibited in an online gallery.
CRITERIA All photographic genres are welcome: portraits, landscapes, photojournalism, macro photography, and composites. All work must be original. Submitted work must be the artist's own. Works previously exhibited at The Art Guild Gallery will not be considered.
JUROR OF AWARDS Award-winning photographers Bill and Gen Rudock will serve as Jurors of Awards. With over 60 years of combined photographic experience, they share a love and passion for photography, traveling, nature, and wildlife. Their knowledge and their reputations have made them sought after speakers, lecturers, and workshop instructors.
ENTRIES
Digital submissions of up to three (3) images uploaded to our website (preferred method) or via email to artshow@TheArtGuild.org. See website for details.
Prizes:
AWARDS 1st Place $300 • 2nd Place $200 • 3rd Place $100 • Honorable Mentions • Student awards will also be given, if appropriate.
Eligibility:
Photographs previously exhibited at The Art Guild are not eligible.
Copyrights & Usage Rights:
The Art Guild may use images submitted in an online exhibit, online gallery and YouTube gallery, as well as shared via social media. Artists are invited to provide their social media handles.
Theme:
Photojournalism Portrait People Other Open Theme Black and White