NAPA World Photography Awards 2021
Have your work displayed and gain exposure!
Deadline: 7 September 2021
Entry fee: Free
Submit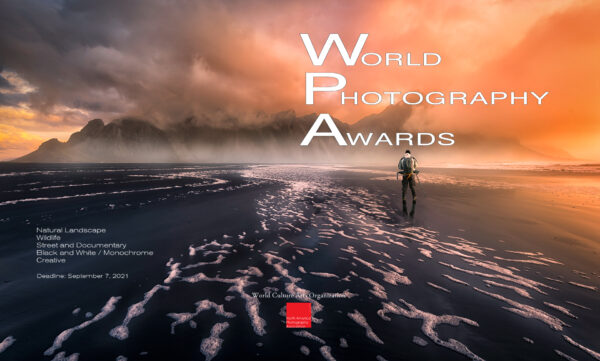 The World Photography Awards for 2021 welcomes diverse and innovative submissions from photographers and visual artists around the world.
Participation in the World Photography Awards is your one-way ticket to showcase your unlimited photographic potential and unique approach at natural landscape, wildlife, street/documentary, monochrome, and creative photography to audiences across the globe.
With five categories, the chance to show the very core of one's work is limitless. All winning photographs will receive recognition and be displayed on social media, website galleries, and photo galleries.
Prizes:
Winners will receive recognition from the World Photography Awards competition & a certificate recognizing their winning works. All award winners receive an exhibition of their work through social media, website displays, and photo galleries.
Gold Awards, 1 winner per category (total 5)
Silver awards: 2 winners per category (total 10)
Bronze awards: 3 winners per category (total 15)
Excellence awards: 15 winners per category (total 75)
Honorable mentions: 25 winners per category (total 125)
Eligibility:
Open to all photographers 18 years and older. We encourage all levels (new, emerging mid-level and career) of photographers to enter.
Copyrights & Usage Rights:
Copyright of the images will remain at all times with the photographer.
For awarded images, copyright holders grant the World Photography Awards 2021 unlimited non-exclusive use of high-resolution images for activities in all media, including social media, online and print, in relation to the contest and all promotional activities without any remuneration being due.
Theme: