NaturViera 2022
The contest will focus on "Natural Wilderness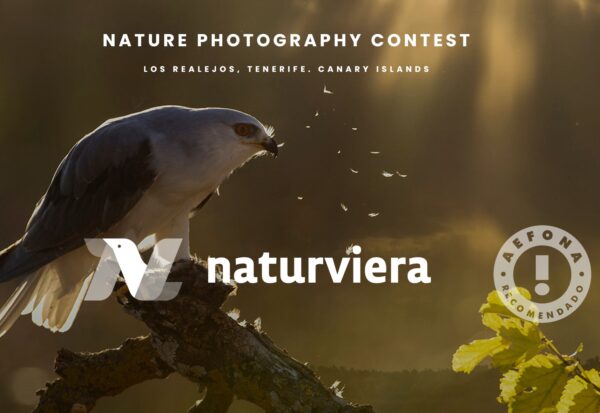 The Hon. City Council of Los Realejos holds "NaturViera" II, the INTERNATIONAL NATURE PHOTOGRAPHY CONTEST in order to promote photographic creation, culture, respect for nature and environmental awareness in honour of the illustrious polygraph born in this town, José de Viera y Clavijo, author, among others, of the Dictionary of Natural History of the Canary Islands, a field study that more than two centuries later continues to be a reference in the investigation of these Islands' species.
Prizes:
The contest will focus on "Natural Wilderness", establishing the following categories and awards:
CATEGORY A. "Viera y Clavijo" Award "BIRDS IN THEIR NATURAL ENVIRONMENT". Photographs of birds both in which the character of the bird, its most distinctive features or details are reflected, as well as compositions in which the landscape is an essential part of the image. The winner is awarded 2,000 euros and diploma.
CATEGORY B. "Ladera de Tigaiga" Award "NATURE AND LIVING BEINGS IN THEIR ENVIRONMENT" Images of any other element related to living beings in their environment, (mammals, flora, fungi, insects, etc.) as well as landscape photographs taken anywhere on the planet. The winner is awarded 1,500 euros and diploma.
CATEGORY C. "Rambla de Castro" Award "NOCTURNAL LANDSCAPE" with images of any night photography, twilight, the milky way, taken anywhere on the planet. Astrophotography is not included in this section. 1,500 euros and diploma.
CATEGORY D. "La Bonita" Award" "LANDSCAPES OF THE WORLD" Landscape photography from around the world. Special prize dedicated to the 400th anniversary of the planting of the first "bonita" potatoes in the Canaries which took place in Los Realejos en 1622. The winner is awarded 1,500 euros and a diploma.
CATEGORY E. "Fundación Diario de Avisos" Award "NATURAL CANARIES" Photographs of nature scences of the Canary Islands. 1,000 euros and diploma.
CATEGORY F. "Los Realejos Four experience" Images which depict sports being performed in nature. (Surfing, kitesurfing, paragliding, rafting, trail running, hiking, climbing.) 1,000 euros and diploma.
CATEGORY G. "Los Realejos Child Friendly City" Award Nature photographs taken by young people under 18 years of age. Prize: 500 euros and a diploma. The prize will be paid into a bank account designated by the minor's parents or legal guardian.
Eligibility:
All photographers, hobyists or professionals, who wish to take part, are over 18 years old, independent of their nationality and place of residence, and who are interested in nature photography can participate in the contest.
Copyrights & Usage Rights:
The copyright of the award-winning photographs will remain with their authors.
Theme: