New Delta Review's Annual Ryan R. Gibbs Photography Contest
New Delta Review's Annual Photo Contest, Judged by Jane Rule Burdine
Deadline: 16 November 2020
Entry fee: $5
Submit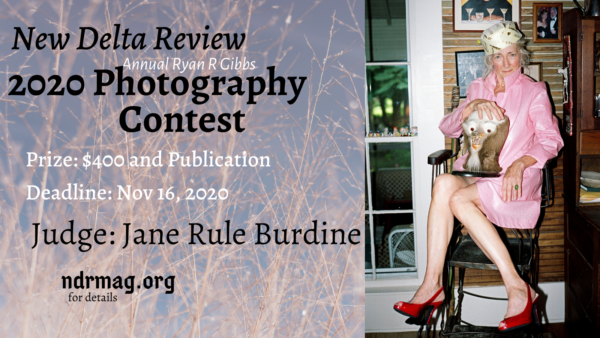 For the Ryan R. Gibbs Photography Contest, New Delta Review seeks a series of 5-11 photographs to be featured in Issue 11.1. Ideally, the photographs should tell a story, or be centered on a unified theme of the artist's choosing. Learn more about our journal here, and check out the stunning work of last year's winner here.
All entries must be previously unpublished and original work of the entrant.
All work must be submitted through our electronic system.
Send only high quality med-res JPG files.
Please submit 5-11 photographs as JPG or as a single zip file.
Submissions will first be reviewed by our editorial staff, and finalists will be passed on for judging.
Family, friends, and previous students of the judge are ineligible for participation in the contest. In addition, students currently enrolled at Louisiana State University and faculty members at Louisiana State University are ineligible for participation in this contest.
If you have any problems submitting, please send an email to newdeltarev@gmail.com.
About this year's judge: Jane Rule Burdine is a legendary Southern photographer. A native of Greenville, Mississippi, she has been living and working in north Mississippi since 1984. The first book of her work, Delta Deep Down, was published by University Press of Mississippi in September of 2008. A documentary about Jane Rule's life, Under Her Skin, (dir. by Kelsey and Rémy Bennett) premiered at the 2018 Tribeca Film Festival. She now lives in Taylor, MS, where she served as mayor for twelve years.
New Delta Review is an online literary and arts journal produced by graduate students in the MFA Program in Creative Writing at Louisiana State University. Since 1984, NDR has published the work of emerging and established writers. Each issue includes original fiction, poetry, creative nonfiction, reviews, interviews, and artwork. In our 30 years of publication, authors of international renown — Anne Carson, Patricia Smith, Robert Olen Butler, Rosemarie Waldrop, Carmen Giménez Smith, J. Robert Lennon and Alissa Nutting, to name a few — have shared our pages with tomorrow's literary stars. Our contributors are regularly included in anthologies such as Best American Short Stories, New Stories from the South, and Best American Poetry.
Prizes:
Prize: $400 and publication in the Issue 11.1 of New Delta Review
All finalists considered for publication
Eligibility:
All entries must be previously unpublished and original work of the entrant.
Copyrights & Usage Rights:
Winner grants New Delta Review first-time only North American publication rights and the right to archive your work on our site. We also reserve the right to publish your work in future print anthologies. After publication in NDR, copyrights revert to the author.
Theme: