Northwoods Wildlife Center 2021 Photography Contest
Did you go outside this year? This is the contest for you!
Deadline: 1 February 2021
Entry fee: $15 per entry
Submit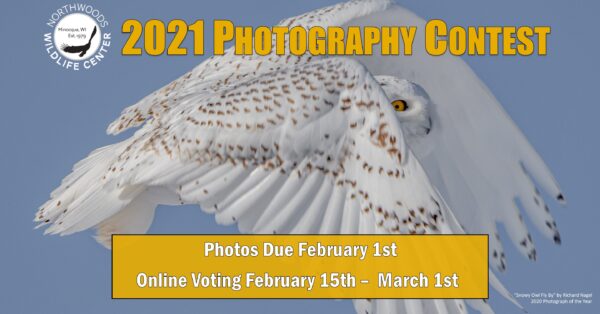 The 2021 Northwoods Wildlife Center Photo Contest is going virtual! Enter your best photographs in 5 categories:
"North American Wildlife" - Any wildlife species native to North America, including mammals, birds, reptiles, amphibians, fish, etc.
"Naturescapes" - Showcase the beauty of natural landscapes! Examples: lakes, sunsets, sunrises, forest scenes, mountains
"Bugs and Blooms" - Close-up shots involving insects, flowers, plants, or any combination
"People in Nature" - Photos involving people enjoying the great outdoors!
"Pets" - Any pet species allowed – cats, dogs, birds, horses, chickens, snakes, etc!
Public voting will take place through the PollUnit website; Northwoods Wildlife Center will provide a link on their website and Facebook page for access to voting starting at 9am February 15th. Voting will close Monday, March 1st at 5pm CST.
The top 3 finishers in each category will be e-mailed a certificate of accomplishment following the close of the People's Choice voting. The top 4 North American Wildlife photographs are then eligible for the Photograph of the Year designation. A panel of judges will make the Photograph of the Year selection based on criteria of creativity and photo quality.
For complete rules and eligibility requirements, please visit our website or email us at general@northwoodswildlifecenter.org!
Prizes:
North American Wildlife Category - $100 first prize
Naturescapes Category - $50 first prize
Bugs and Blooms Category - $50 first prize
People in Nature Category - $50 first prize
Pets Category - $50 first prize
Eligibility:
This is an amateur contest. Photographers that receive greater than 25% of their annual income through photography, or consider themselves professionals, are ineligible. Watermarks on the photos are prohibited. Northwoods Wildlife Center retains the right to remove entries that are in violation of contest rules.
Copyrights & Usage Rights:
Photographer retains the rights to their images. By submitting a photograph, you acknowledge that you are the sole owner of the photograph. You permit Northwoods Wildlife Center to use your photograph in the Center's publications, website, press releases, social media, advertising, displays, educational materials, and other marketing and fundraisers.
Theme:
Wildlife Nature Environmental Landscape People Seascapes Underwater