Ocean Art 2022 Underwater Photo Competition
Over $35,000 in prizes!
Deadline: 30 September 2022
Entry fee: $10 USD per photo
Submit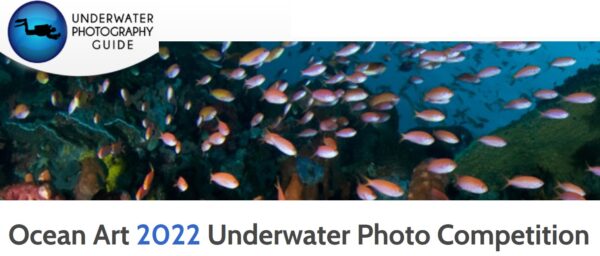 This year, we are excited to announce a new category - the Black & White category! This category will feature photographs in black, white, and shades of grey. These photos emphasize the ability of the photographer to accentuate light and shadows to tell a story. We have also decided to continue our very unique and impactful Blackwater and Underwater Conservation categories.
We can't wait to see the incredible photography our amazing community of underwater photographers brings forth!
Prizes:
The contest features prizes exceeding $35,000 in value from some of the world's top liveaboard, resort, and photo gear sponsors.
Eligibility:
All images are eligible regardless of past use. However, images that have not previously placed in a major international contest and have not been widely seen in publication are favored by our judges.
Copyrights & Usage Rights:
Entrants, by submitting images, grant permission to the Underwater Photography Guide to use winning entries for the direct promotion of the Underwater Photography Guide photo contests, including but not limited to Ocean Art. All photo rights remain with the photographer. Any images used for this purpose online will include a watermark with 'Ocean Art Contest' and the photographer's name. We are not interested in taking any other rights for the photo, selling it, making a book out of it, etc. It's your photo.
Theme: