Off Limits
Odesa//2018 Photo Days Open Call
Deadline: 1 March 2018
Entry fee: 15 euros
Submit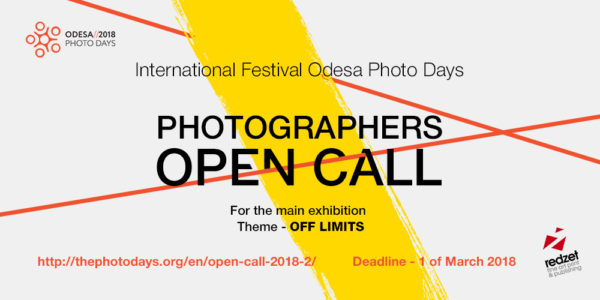 Festival Odesa Photo Days was founded in 2015. It arose as a reflection of the war in eastern Ukraine, political events and social media manipulation.
Historically and geographically, Ukraine is at the crossroads of paths and political interests, but at the same time the country remains closed in its borders, problems, identity and social development. The country, which, on the one hand, is open to the world for tourism and knowledge, but on the other looks dangerous because of the war in the East of the country. The duality of a situation that hides incredible interesting stories, cities and events.
This year we accept applications from photographers from all over the world to see hidden stories from different continents in order to open our photo festival for the international community and visualize the secrets of our country.
"Off Limits" - are stories that are forbidden to speak for political or historical reasons, it's a story about cities and people that have been forgotten. The process of opening the veil of truth to things from which society wants to turn away, to forget, to conceal.
Contributing to the contest from the author is:
- One series of works;
- PDF format, maximum number of photos - 20, short text - the description of the series
(file size is not more than 15 Mb)
- The subject of the mail "Open call_Last name_Name_Country"
- Send PDF to mail: thephotodays@gmail.com
- Fill out the online form https://goo.gl/forms/Vd4ONkRC67RpV0Z62
- Contribution from the author - 15 euros
You can make a payment here http://thephotodays.org/en/open-call-2018-2/
The deadline for applications is the 1 of March , 2018
Prizes:
participation in main exhibition
Eligibility:
International / 18+
Copyrights & Usage Rights:
Copyright of the images will remain at all times with the photographer.
Images will be used strictly in connection to the awards and will not be used for any other marketing purposes other than to promote Odesa//2018 Photo Days Open Call. Images will not be resold or used by any other third party. If there is a request for such, we will forward that request to the photographer via e-mail.
Theme:
Multi-categories Conceptual Documentary Fine Art People Photojournalism