OneDayInVenezia Photo Contest
Amateur Photo Contest for Venice lovers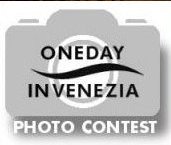 One Day In Venezia is an international photography prize open to all people, aged 18 or over, NON-professional photographers from all geographical locations. The theme is Venice Italy ("what memory/memories are you taking home with you after one day spent in Venezia?"). OneDayInVenezia.com offers: Twelve monthly competitions each year, awarding Twelve winners (one per month, winning a group show) and One Grand Prize winner (winning the above plus in addition: a solo show, two days at the Hotel Papadopoli Venice by Sofitel MGallery, with the collaboration of the prestigious Harry's Bar by Cipriani in Venice, Gran Caffè Quadri Alajmo, Ristorante da Ivo. Plus a gondola tour, and more to come (details on the website). EVERY submitted photo will be screened and shown at Giudecca 795, a major art gallery in Venice.
The entry fees are aimed to cover the costs of staff and exhibitions and help underwrite art projects in Venice.
Prizes:
EVERY submission will get online exposure at Giudecca 795.
Twelve winners will be selected to have their work produced as a high-quality print, and displayed in a group show of the twelve winners, hosted for free at the Gallery.
Each of the monthly winners has the potential to win ONE YEARLY GRAND PRIZE including the above, plus in addition (on the occasion of the show's opening):
a solo show to be presented in the Giudecca 795 Art Gallery;
a two-night staying for two at the Hotel Papadopoli Venice by Sofitel MGallery ;
a dinner for two at the prestigious Harry's Bar by Arrigo Cipriani;
an aperitif for two in St.Mark's Square at the historical Grancaffè Quadri;
a lunch or dinner for two at Ristorante Da Ivo (another historical venue);
a gondola tour for two. (weather conditions permitting)
…and more, to be announced.
Dates to be agreed upon availability
The grand final prize winner may decide to give the 2 nights staying and gondola tour as a present to someone else; the right to the solo show is strictly personal.
Eligibility:
All people, aged 18+, amateur photographers.
Copyrights & Usage Rights:
By submitting your images, you grant us the non-exclusive right to reproduce them for contest advertising and exhibiting purposes, at any time in any media with attribution, without further compensation. The Hilton Venice Hotel will be publishing a 2017 calendar using some photos of our contest. And your name will be credited.
Theme: