Online Photography Competition "Alfaaz-2018"
"photography is a love affair with life"
Deadline: 25 November 2018
Entry fee: Free
Submit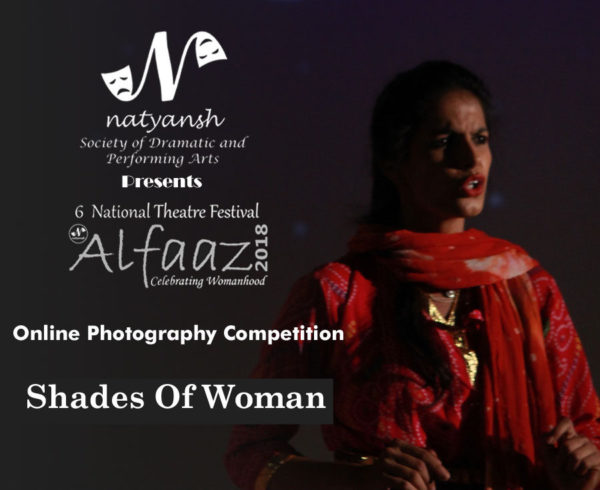 National Theatre Festival "ALFAAZ" is organized by the Natyansh Society of Dramatic and Performing Arts in city of lakes Udaipur every year in December. The theme of this theatre festival is to highlight and create awareness about the status of women in our society. This year we are organizing an online photography competition to promote this cause and make more and more people aware about this cause.
Just like theatre, photography is also an art form. A picture is better than thousand words. Just like theatre, a picture can touch a chord in the hearts of people and make them aware of the status of women in our society. Even as an amateur, if you have an eye for a good shot and scene, you can click a picture that will send a loud message of awareness which is better than a thousand words.
Theme
"Shades of Women"
Prizes:
Prizes
Click speaking pictures and send to us. The best picture will get a cash prize of Rs. 1000/- and two runners up will each get a cash prize of Rs.500/-.
Eligibility:
everyone can Participate
Copyrights & Usage Rights:
Please read below mentioned guidelines and rules before submitting your photo(s) to "Alfaaz-2018
Photography contest". By participating in the contest, you understand, acknowledge and
unconditionally agree to abide by the following Rules:
BASIC SUBMISSIONS GUIDELINES FOR PHOTOGRAPHS
1. The contest is open for online submissions only, through the contest page available on
http://natyansh.org/alfaaz-2018/
2. Submissions will not be accepted once the deadline lapses.
3. Photos submitted must be at least 1024 pixels on the shorter side and should be no larger than 10
MB. Photos must be in JPEG or Valid Image format.
4. You may submit two entries per contest . However, you will be able to upload only one image at a
time using the websites upload function.
5. You are required to provide a unique title & description for each image submitted.
6. All submitted photos must contain the original EXIF metadata information. However there must
be no border(s), logo(s), copyright marks, identifying marks, or any other visible references and/or
marks on the image.
7. Basic editing, including colour enhancement, the use of filters, and cropping of the Photo(s) is
acceptable, provided any such editing does not affect the authenticity and/or genuineness of the
Photo(s).
8. Advanced editing used to create illusions, deceptions and/or manipulations, and the adding and
removing of significant elements within the frame is prohibited.
9. Every image uploaded is subject to a moderation process before it becomes visible on the contest
page. Natyansh Society of Dramatic and Performing Arts reserves the right to assess and disregard
any submitted photo at its discretion.
10. Photos that portray or otherwise include inappropriate and/or offensive content, including
provocative nudity, violence, human rights and/or environmental violation, and/or any other
contents deemed to be contrary to the law, religious, cultural & moral traditions and practices of
India, are strictly prohibited and will be immediately discarded.
11. A participant who submits any such photos may be permanently banned, subject to discretion,
from participating in any future contests.
Theme: