OPEN CALL GETXOPHOTO 2019
Share your vision on "Post Homo Sapiens. Programming the Future"
Deadline: 21 April 2019
Entry fee: 20€
Submit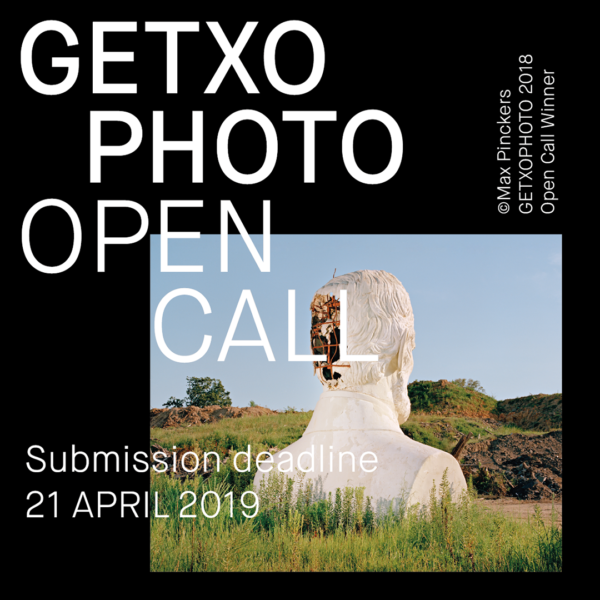 OPEN CALL GETXOPHOTO 2019
Call for entries until April 21st
GETXOPHOTO Festival invites photographers and visual artists from all over the world to share their vision on "Post Homo Sapiens. Programming the future".
This Open Call is the opportunity to exhibit in GETXOPHOTO International Image Festival. The four selected works will be exhibited during the 13th edition, from September 4 to 29, 2019 in a special venue (Punta Begoña Galleries) in Getxo, Spain.
We are looking for works which challenge the way we think and questions established ideas of engagement. The Open Call is open to visual representations using different mediums as photography, video, installation, archives, documents, among others. The intention is to showcase the very best visual works which challenge the way we think and question established ideas of engagement
The jury is composed by Emilia van Lynden (former artistic director of Unseen), Fiona Shields (head of photography for The Guardian), Azu Nwagbogu (director of LagosPhoto Festival), Elena Navarro (artistic director of FotoMéxico Festival) and Monica Allende (artistic director of GETXOPHOTO).
Submissions can only be made through the Picter platform, where you can check the terms and conditions and FAQs.
https://contests.picter.com/getxophoto-open-call-2019
Prizes:
What winner receives
Four (4) artists will benefit from:
-Exhibiting at the GETXOPHOTO Festival with recognized contemporary visual artists
-Exhibition at one of the most special Festival venues
-€400 fee as Festival participant
-Accomodation for 2 nights during the Opening Week
-Inclusion of the work in the Festival's programme and book
-Inclusion in the Festival's communication campaign
-Dedicated entry on the Festival's website
-Being seen by a large number of visual arts professionals
All submitting artists will be reviewed by all the members of the jury.
Eligibility:
N/A
Copyrights & Usage Rights:
The rights of the works will remain property of the author.
Entrants to the GETXOPHOTO Open Call 2019 submission must confirm that they are the authors and owners of the copyright to all images submitted and that their entries do not infringe the privacy rights, copyright or any other rights of any person.
The entrant guarantees that they have the explicit consent of all people who are pictured in their submitted images (the legal guardian, in the case of children) to exhibit and publish the images as described in these terms and conditions.
By participating, all selected entries may be reproduced by GETXOPHOTO in any of their publications, websites and social networks and/or any promotional material being referenced or credited only for promotional use (not for commercial use).
Theme:
Conceptual Digital Art Documentary Fine Art Multi-categories Urban Alternative process