OPEN CALL INCADAQUÉS
Join our Open Call InCadaqués 2019, and get a chance to participate
Deadline: 30 June 2019
Entry fee: 20€ all inscriptions
Submit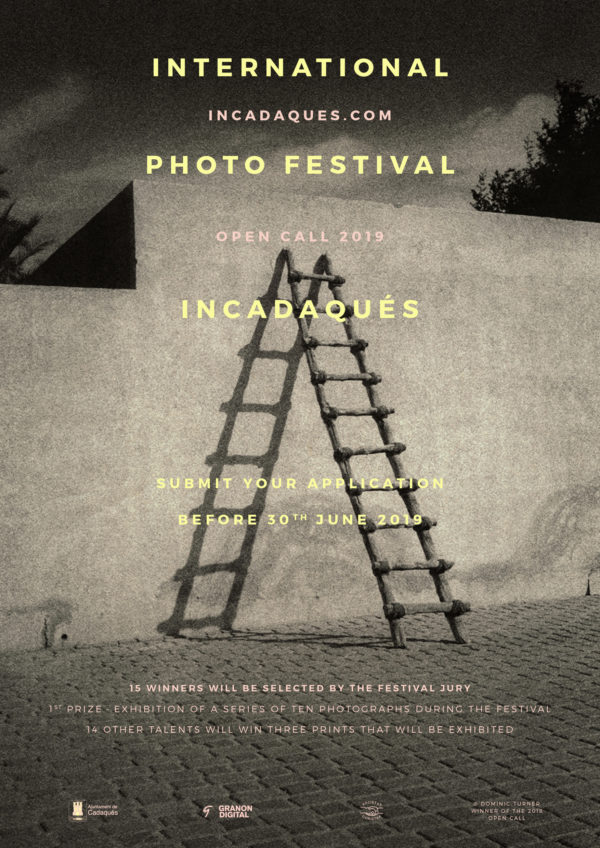 WE INVITE PHOTOGRAPHERS TO SUBMIT PROJECTS THAT COULD BE EXHIBITED DURING THE NEXT EDITION OF THE INTERNATIONAL PHOTO FESTIVAL INCADAQUÉS 2019.
15 PROJECTS WILL BE SELECTED AND EXHIBITED AT THE SALA DE L'AMISTAT DURING THE FESTIVAL.
THERE ARE NO AGE RESTRICTIONS OR IMPOSED THEMES.
APPLICATION FEE IS 20€/PERSON AND IS PAYABLE ONLINE.
EACH SUBMISSION MUST BE COMPOSED OF ONE SERIES OF 15 PICTURES MAXIMUM (AND 10 MINIMUM)
Prizes:
THE WINNER OF THE 2019 OPEN CALL WILL HAVE A SERIES OF 10 PHOTOS EXHIBITED DURING THE 2019 INCADAQUÉS FESTIVAL
A selection of 3 photos BY EACH OF THE 14 RUNNERS-UP will ALSO be exhibited during the festival
exhibition expenses (prints) will be covered by the festival & THE GRANON DIGITAL LAB.
The exhibition space will also be dedicated to the presentation of the selected artists' portfolios if they wish to do so
exhibition expenses (prints), accommodation during the opening weekend and transportation will be covered by the festival FOR THE WINNER OF THE OPEN CALL. THE RUNNER-UP WILL BE GIVEN A VIP PASS (ONE) IF THEY WISH TO ATTEND THE FESTIVAL.
Eligibility:
Open to all
Copyrights & Usage Rights:
WHILE WAITING FOR THE FINAL SELECTION OF WINNERS OF THE OPEN CALL BY THE JURY, A PRESELECTION OF THE FAVORITES PHOTOS WILL BE PUBLISHED ON OUR INSTAGRAM @IN_CADAQUES.
THE TWO IMAGES THAT HAVE RECEIVED THE MOST "LIKES" WILL BE PUBLISHED IN THE CATALOG INCADAQUES 2019 IN RISOGRAPHY.
Theme: