Parrot Photo Contest
The competition is open to bird lovers
Deadline: 1 August 2023
Entry fee: $5.00 for 1 picture for 5 for $20
Submit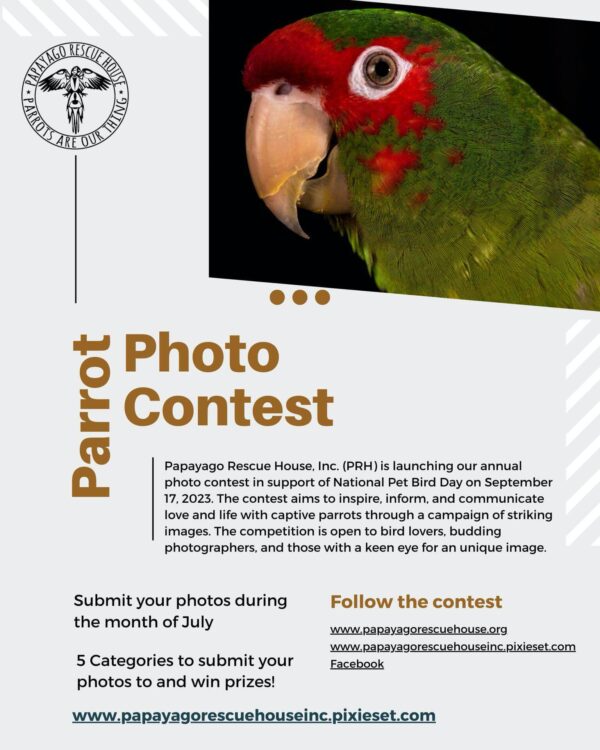 Papayago Rescue House, Inc. (PRH) is launching our annual photo contest in support of National Pet Bird Day on September 17, 2023. The contest aims to inspire, inform, and communicate love and life with captive parrots through a campaign of striking images. The competition is open to bird lovers, budding photographers, and those with a keen eye for an unique image.
Theme: We are looking for striking, memorable, and unique images depicting parrots in captivity showing their "true colors", interacting with their surroundings,
Category 1: The People's Choice with the most votes. We'll publish the winner and the runners-up in our August newsletter, 2024 calendar, photobook, and website.
Category 2: Growing up with a parrot. Open to young adults ages 13 through 18 years of age. Two winning images will be chosen from young adult photographers. We are asking young people to capture the essence of their relationship with a parrot (parrots do include budgies also known as parakeets, cockatiels, et al). In color or black and white.
Category 3: The world according to a captive parrot: Capture an image of what the world might look like to a pet bird. This can be in color or in black and white.
Category 4: Creatively Parrot: Abstract, creative with the tools, all to show the nuances of the captive parrot.
Category 5: Strike a pose: Capture an image of a parrot striking a pose, any pose, showing their natural beauty.
No birds should be compromised in any way, and photos should be taken in an ethical manner, without undertaking any unethical practices that cause any animal harm or distress. This includes birds with dogs, cats, and other animals. As we are advancing parrot welfare, no baby parrots should be used in the pictures. Birds should be in a harness or carrier if any outdoor pictures are taken.
Prizes:
Thanks to our wonderful sponsors for donating the prizes this year! They have offered some really great stuff such as an A&E 36x cage, a travel voucher for $500, a year training membership to the Parrot Project, a wine tasting party for 20 people, Andretti indoor karting & games tickets, a couple of tickets to Six Flags over Georgia, a couple of life long memberships to learn how to play guitar, free boarding, and more!
Eligibility:
No age limit
Copyrights & Usage Rights:
In submitting an image, entrants agree that PRH can use the image across its publications, social media, and web channels.
Theme: