Pashadelic Global Photo Contest
1month left! Enter your photos for free for a chance to win 1mil JPY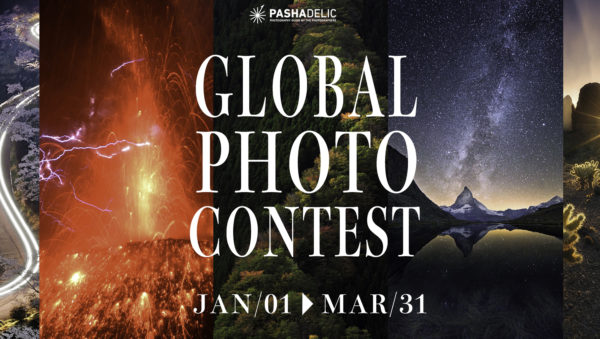 Theme is Majestic View. View of your favorite spot, beautiful split second caught on camera, or place you want to share with the world. Let's share amazing photos.
Grand Prize is worth ONE MILLION JPY.​ ​
We are looking forward to seeing your best shot!
Prizes:
1st Place·Grand Prize
·Grand Prize worth 1million JPY: Nikon D850, Pair ticket to Palau, Wacom Intuos Pro Medium, Adobe Photo Plan (1 year), NiSi Filters 100mm Professional Kit Second Generation II, 16x24 inch Metal Print, PASHADELIC Original Goods, and Photo Exhibit
2nd~5th Place: Wacom Intuos Photo small, NiSi 100mm system filter holder Kit-V5 PRO、 Adobe Photo Plan(one year)、8x12inch metal print(winning piece)、PASHADELIC priginal goods、Photo Exhibit(planned in July)
Eligibility:
・Contestants can participate only via PASHADELIC website. ・ All entrants must have a Pashadelic account to compete. ・Photos must be submitted through photo contest page by clicking on the 'Enter Contest' box. ・ All the entries must have to "Photo Location".
Copyrights & Usage Rights:
Entry Rules
・ Entries must be photographed and uploaded from the original entrant.
・ All entrants will be required to have a Pashadelic account to enter the contest.
・ PASHADELIC and the judges have the right to delete the photos when finding inappropriate photos.
・ The contest is open to all, professional and amateur, gender or nationalities.
・ By submitting photographs to Pashadelic, all contestants consent to give Pashadelic the right to use their pictures for its public relations such as social or internal communications, without any fee or other forms of compensation, nor the entrant's consideration, nor the need to seek any additional approval.
・ Any photo including award-winning photos can be posted to compete.
・Photos trimmed or sensor dust cleaned photos can compete as well.
・HDR, panorama photos, photos with a depth of field put together via photoshop are allowed to compete.
・However, photo piece that is deleted or edited drastically will not be accepted.
・Winner of the contest must provide us with the RAW file of the winning photography (or other in other file format)
・If the winning piece is photoshopped all together, we ask to provide you with all photos used as RAW files.
・It does not matter when the photo was taken.
・You can enter as many photos as you'd like, however, the maximum photo you can upload at once is three photos per post.
・Contestants must be 18 years or older.​ ​
Judgment Criteria​ ​
・World class photographers will be judging the photos.
・ Photographs will be judged based on factors such as composition and creative use of lighting and narrative.
・ The description or story that you provide with your photograph will be part of the criteria for selecting winners.​ ​
Contest Time Zone
・GMT+9
Theme: