PHmuseum 2017 Women Photographers Grant
The Grant offers £8,000 in cash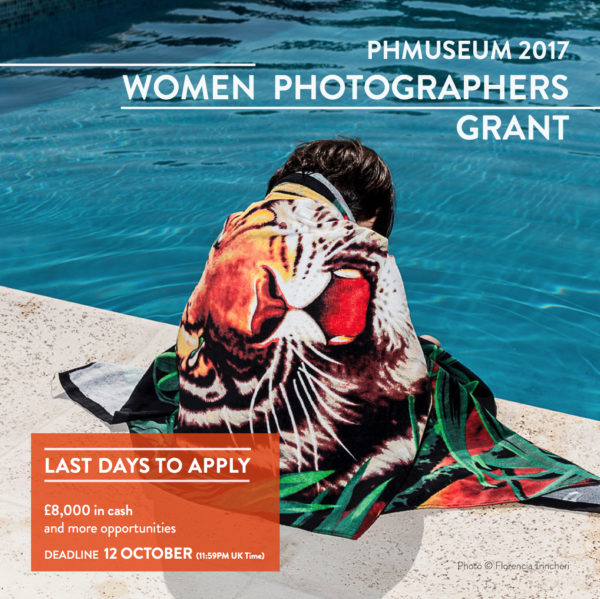 The Grant offers £8,000 in cash, a projection at Photo Vogue Festival 2017, and an automatic nomination for the 2018 World Press Photo Joop Swart Masterclass to a photographer under 30, among many other relevant prizes. Prizes will be awarded by Donna Ferrato, Alessia Glaviano, Rebecca McClelland and Daniella Zalcman.​
With this initiative we aim to facilitate the growth of the new generations and promote stories narrated from a female perspective, while responding to the necessity to fight against gender discrimination within the industry. I would really appreciate if you could share this opportunity with photographers and
colleagues.
Prizes:
Our international jury will award £8,000 in cash prizes, a solo exhibition at Organ Vida International Photography Festival and other great opportunities.
Exhibition at 2018 Organ Vida International Photography Festival (Croatia) / Organ Vida, one of the leading photo festivals in Europe, will grant a solo exhibition to a project selected by Marina Paulenka (Founder & Artistic Director) within the festival 2018 edition, which will be dedicated to women photographers.
Eligibility:
-
Copyrights & Usage Rights:
By participating, Entrants agree to release, discharge, and hold harmless PHmuseum and each of their respective partners, affiliates, subsidiaries, advertising agencies, agents and their employees, officers, directors, and representatives from any claims, losses, and damages arising out of their participation in the PHM 2017 Grant or any PHM 2017 Women Photographers Grant-related activities.
Theme: