PHmuseum 2020 Mobile Photography Prize
The Best International Mobile Photography Prize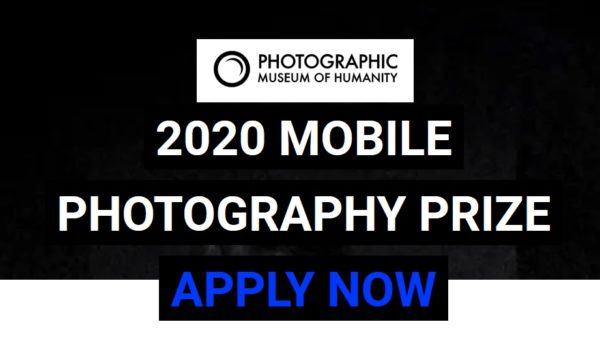 The PHmuseum 2020 Mobile Photography Prize is now open for submissions at phmuseum.com/m20.
The 2nd edition of the open call is dedicated to a single theme: INSIDE - Home, Family, and Community in a Historical Collective Moment. Mobile devices are indeed the main vehicle through which we document our everyday life. We aim therefore to explore this collective crisis through the images you have felt natural taking in these months. Images that together can define our collective memory and become an inspiration for the world after the crisis and the generation to come.
The open call offers $5,000 in cash for the mobile photos of the year, inclusion in our second 200-image photobook on mobile photography, and feature in a physical exhibition in Italy. Also, many publications will support us in promoting the work of applicants. BuzzFeed News will publish a gallery of photos from the call; both Yogurt Magazine and GUP Magazine will feature 3 photographers' portfolios with GUP also offering a yearly paper subscription; How To Spend It will publish another selection of images; C41 Magazine will feature 5 online photographers' portfolios. 
To participate, you are invited to enter one or more images taken with a mobile device. You can upload photos from your desktop computer, phone gallery and Instagram library. Submissions will be reviewed by a panel comprising of Francesca Marani (Vogue Italia), Kate Bubacz (BuzzFeed), Piero Percoco (Photographer) and Sarker Protick (Artist and Curator). The deadline is set for 11 June, while there is a free entry option until 12 May. 
Prizes:
Mobile Photos Of The Year / 1st Prize $2,500 - 2nd Prize $1,500 - 3rd Prize / $1000 and up to 9 mentions and 60 finalists
200 Images Photobook / PHmuseum's Team will select up to 200 images that will be published in a limited edition photobook. The publication will be the second title of a series of volumes aimed at exploring mobile photography.
Collective Exhibition in Italy / PHmuseum's Team will curate a collective exhibition at PHmuseum LAB in Bologna, Italy in January 2021 during ArteFiera, one of the most important art fairs in Europe. The event will be accompanied by the book presentation and a workshop on mobile photography.
Feature on BuzzFeed News / Senior Photo Editor at BuzzFeed Kate Bubacz will handpick a selection of photographs from the open call to be published on BuzzFeed News, a global news organization providing original online reporting and video programming across Netflix, Facebook Watch, Twitter, Snapchat, and more.
3 Individual Features on GUP Magazine + Yearly Subscription / Since 2005, GUP Magazine aims to connect communities around contemporary art and documentary photography. Their Editorial Team will choose 3 photographers among all of the applicants who will be granted an online individual portfolio feature plus a yearly subscription to the printed magazine.
3 Individual Features on Yogurt Magazine / Awarded by Francesco Rombaldi, Editor in Chief Yogurt Magazine is a visual arts magazine and curatorial platform focused on contemporary photography. Francesco Rombaldi, Luigi Cecconi and Yogurt editorial team will select 3 photographers from all the submissions to receive an online portfolio feature.
Collective feature on How To Spend It / How To Spend It has been part of the Financial Times newspaper for more than 40 years and is now widely regarded as the benchmark for luxury lifestyle magazines. Rasha Kahil, Creative Director and Katie Webb, Photo Editor will feature a selection of photographs from the open call on the magazine's website and 100,000-follower Instagram account.
5 Online Publications on C41 Magazine / Awarded by C41 C41 Magazine will pick its 5 favourite photographers from the contest submissions and will write a dedicated article on their projects on the website.
Online Exhibition on PHmuseum / Together with the physical show in Italy and the book presentation, in January 2021 we will aslo present an online exhibition centred around this year's theme: Inside. Here you can see the online exhibition made with images from last year's open call.
Eligibility:
All photographers over 18 years of age
Copyrights & Usage Rights:
When You submit photographs to the PHmuseum website, You remain the copyright owner of the photographs You submit to the PHmuseum website and PHmuseum does not claim ownership over the photographs. To learn more about the copyrights treatment please visit our website's Terms and Conditions.
By accepting these Terms You further acknowledge that the full names of the winners may be published by PHmuseum, and You grant PHmuseum a non­-exclusive perpetual, worldwide royalty free license to use and publish your Images in whole or in part in any media form whatsoever, for the sole purpose of the Mobile Photo Prize's and PHmuseum's promotion, including on the 2020 Mobile Photo Prize's results page. You also agree that PHmuseum will have the right to use and publish the Images for the sole purpose of promotion and marketing of the current and future seasons of the Prize on any media worldwide without any fee being paid.
Theme: