PHmuseum 2021 Photography Grant
discovering and supporting the best in contemporary photography.
Deadline: 18 February 2021
Entry fee: Early Bird €25​ / Standard Entry €35​
Submit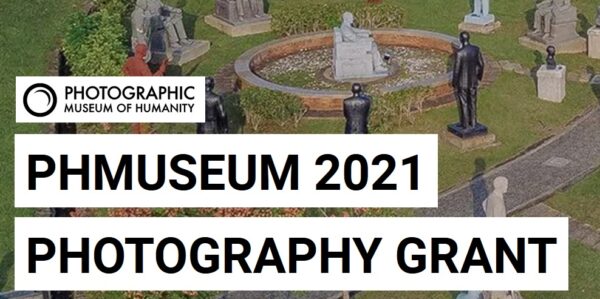 The PHmuseum Photography Grant is an annual initiative that aims to discover, produce and promote the best in contemporary photography. Over the years it has grown into a leading photography prize, with previous editions having awarded work by photographers like ​Salvatore Vitale, Jacob Aue Sobol, Diana Markosian, Poulomi Basu, Nikita Teryoshin and last year's first prize winner Noelle Mason​, among many others. Now in its ninth edition, the initiative is designed to support the production and promotion of visual projects through cash prizes, educational activities and exposure across international festivals, and online media.
To participate, you are invited to submit one or more cohesive projects. All photographic approaches are welcomed. Our independent jury will then review all the submissions and gather together to decide what is most relevant according to their personal criteria. As usual, you retain full copyright at all times.
Prizes:
-1st Prize / €6,000
-2nd Prize / €2,200
-3rd Prize / €1,100
-New Generation Prize / €2,200
-A Solo Exhibition
at PhEST / Awarded by PhEST's Team
PhEST's team will select a work from all the submissions to be granted a solo show during the 6th edition of the festival to be held in Monopoli, Italy in August 2021.
-An Exhibition
at Getxophoto / Awarded by Jon Uriarte
Jon Uriarte, artistic director of Getxophoto and digital curator at The Photographers' Gallery, will select a project from all the submissions to be awarded an exhibition during the new edition of the festival which will be held in Getxo, Basque Country, Spain in September 2021. In addition to the show production, the winner will receive an artist fee of €400 and accommodation for 2 nights during the Opening Week.
-A Solo Exhibition at PHmuseum Lab / Awarded by PHmuseum's Team
PHmuseum's Director Giuseppe Oliverio and Curator Rocco Venezia will select a project among all of the submissions to be exhibited at PHmuseum LAB, Bologna Italy, in September 2021. The prize includes travel, accomodation and production costs.
-Residency Bursary
at Landskrona Foto / Awarded by Jenny Nordquist
Landskrona Foto's Director Jenny Nordquist, will select a photographer from all the submissions to be awarded a place for the Landskrona Foto Residency. The program takes place for 6 weeks during the autumn of 2021 in Landskrona, Sweden. The artist in residency receives a grant of 15000 SEK (approximately €1500), travel expenses to and from the home country (economy only), an apartment in Landskrona, and an office space. The selected photographer will commit to producing a unique body of work within the residency period having his/her new surrounding area as the main focus.
-3 Free Online Portfolio Reviews from PHmuseum Education / Assigned by the PHmuseum Team. Our team will select 6 photographers from all the applicants, who will be granted a 60-minute online portfolio review with a mentor of their choice from the PHmuseum Education.
-Up to 9 Honorable Mentions and 35 Shortlisted Projects / All the shortlisted works will be projected at Lagos Photo Festival 2021, Verzasca Photo 2021, and Jakarta International Photo Festival 2021, and promoted on the PHmuseum channels.
Eligibility:
Open to all.
Copyrights & Usage Rights:
As usual, you retain full copyright at all times.
Theme:
Abstract Architecture Aerial Black and White Cityscapes Conceptual Culture Digital Art Documentary Environmental Alternative process Wildlife Underwater Urban Travel Street Sports Seascapes Self-Portrait Photojournalism Photomanipulation Portrait People Fashion Fine Art Film Landscape Macro/Micro Multi-categories Nature Nudes Open Theme Panoramic Other