PHODAR Series Awards 2021
Grand Prize $2.000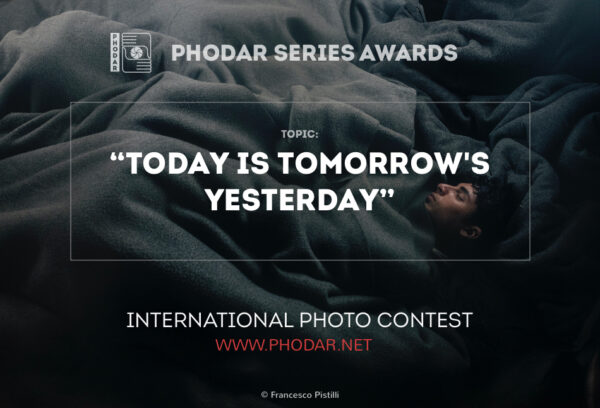 Photography contest 2021: PHODAR BIENNIAL is pleased to announce an open call for its 11th Edition! Topic "ТODAY IS TOMORROW'S YESTERDAY". We believe this topic will inspire not only the artistic abilities of our photographers, their humanistic and critical potential, but also the previously mentioned sense of history and the ability to distinguish the important from the mundane, what truly matters from mere sensationalism, what has a bearing on our society from what is appealing just on the surface, so that we may send an adequate message to the people who will inherit us. A message that will aid our descendants in understanding what obstacles we have overcome and what sort of values we, their ancestors, have.
Prizes:
Series awards:
Grand Prize $2.000
Photo School Prize $500.
CASH AWARDS FOR PRIZE WINNERS AND DIPLOMAS FOR SELECTED AUTHORS
GAIN WIDESPREAD EXPOSURE, YOUR WORK WILL BE EXHIBITED DURING THE PHODAR FESTIVAL IN SOFIA
SHOWCASED AT THE ONLINE WINNERS GALLERY
GET PUBLISHED IN OUR PHOTOBOOK
For the Entry, you can submit between 8 and 24 images with coherent overall look – photo essay, from an unfinished, ongoing or completed project. The photographs have to be created after 2019 when was the last edition of the PHODAR Biennial. No stock photography is allowed.
Eligibility:
PHODAR Biennial Series Awards competition is open to both professional and amateur photographers over 18 years of age. There is no limitation regarding entrant's country of origin and/or citizenship.
Copyrights & Usage Rights:
Copyright of the images will remain at all times with the photographer. All entrants agree of the storage of their images in electronic form for the purpose of judging the competition and the private distribution of those images as required to complete the judging process. Finalist's images as selected by the jury will be printed and mounted at the expense of the PHODAR Foundation, for display at the PHODAR Awards Exhibitions. Ownership of the prints remains with PHODAR Foundation. These may not be sold or published without the express written permission of the entrant but may be displayed in public to promote the competition and subsequent competitions.
By entering the Award, you agree that any work you submit may be used by PHODAR Foundation (and our print and gallery partners) solely for purposes in connection with the Award or future Awards, and any successor website and no other purpose.
By entering the competition, the photographer warrants that the work submitted is their own original work, that all personal details provided are accurate and complete and that the entrant has all necessary rights and authorities to grant the rights specified in these terms and conditions so that use of the images as described will not infringe the rights of any third party.
Theme: