photo-eye Gallery: Fractured Call for Entries 2020
This exhibition will be juried by the photo-eye Gallery staff.
Deadline: 12 January 2020
Entry fee: $35 for 3 images, $5 for each additional image. 20 images maximum.
Submit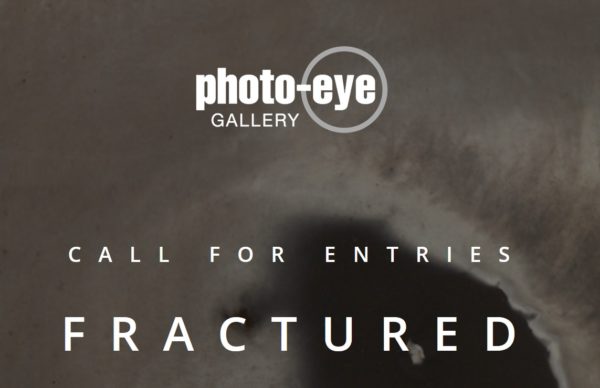 This year marks the 40th Anniversary of photo-eye and we are celebrating with our first-ever Open Call.
We invite the submission of photographic works exploring the concept of "fractured." Artists are encouraged to be creative in their interpretation of the theme.
Today, our world can seem divided in a multitude of ways. Between debates over the climate emergency, corporations literally breaking our earth with fracking, families split at national borders, and our divided political systems, concepts like societal unity and harmony feel like a distant hope. Even on a personal level, humans have the capacity to feel fissured, split, and incomplete in our thoughts and emotions. Shifts in perspective, breaks from tradition, and experiencing loss can all encompass the idea of the fracture. This concept can have both positive and negative connotations. However, acknowledging that something is broken is the first step in working toward healing. How can art be a platform for expressing, and ultimately bridging these personal and social divides? What role does the photographer play in observing, documenting, and healing the fractured landscapes around and within us all?
This exhibition will be juried by the photo-eye Gallery staff. The gallery is looking for new work, and submissions to the open call are also considered for future representation in our online Photographer's Showcase. Standard artist contract applies.
Submitted photographs may come from photojournalistic or documentary projects, commercial assignments, as well as photographs made as expressive artworks.
Prizes:
Accepted artworks will be for sale at photo-eye Gallery, on our website (photoeye.com/gallery), as well as third party platforms Artsy.net and 1stdibs.com. photo-eye Gallery will retain a 50% commission from the sale of any artwork during the exhibition. Artists will receive payment by check to the address listed in their CaFÉ account 30-40 days after the artwork has been delivered to the client.
Eligibility:
Anyone who has a serious interest in art and photography. The work cannot have been shown by photo-eye Gallery or photo-eye's Photographer's Showcase previously.
Copyrights & Usage Rights:
Artists accepted to participate in Fractured grant photo-eye non-exclusive rights to use the image submitted in all online and physical advertising to promote the exhibition online, in social media, and in print. Artists retain the copyright to their images and will be credited in any promotional material.
Theme: