PHotoFUNIBER'23
Prize of €400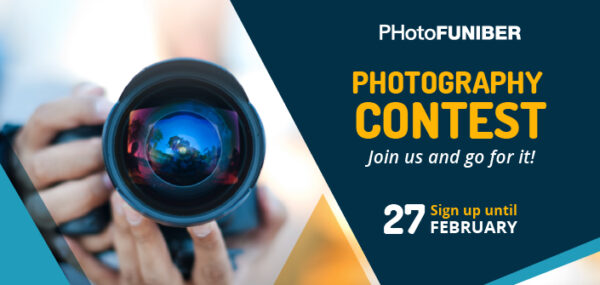 FUNIBER has organized the international photography contest, PHotoFUNIBER'23, for the fifth consecutive year, as a space for contemplating images on diversity. We value plurality and talent, acting in more than 30 countries through distance education, with a network composed of students, professors and researchers from the different corners of the world.
We appreciate the critical, but positive, views on the future.
We organized the PHotoFUNIBER'23 contest, within the FUNIBER Cultural Works framework, with the aim of getting to know the varied perspectives on our world: perfectionism, intelligence, creativity, effort and the mysteries that surround us in photographs as chosen and constructed to telling stories.
Prizes:
The winner of each category chosen by the jury will receive a prize of €400 and 80% scholarship to study one of the postgraduate programs promoted by FUNIBER
The photograph in each category with the most public votes will also be awarded a prize of 300€ and a 50% scholarship to study one of the postgraduate programs promoted by FUNIBER. Voting will be done through the contest page http://www.photofuniber.com/en/, using Facebook likes.
Eligibility:
Participation is open to any adult, amateur and/or professional photographers residing in any of the countries where FUNIBER is present, who may submit their own images that have not been prized in other competitions, nor have been used for commercial purposes, whether journalistic, advertising or other purposes, and fall within the contest's topic.
Copyrights & Usage Rights:
The authors of the prized and selected photographs will cede their reproduction, communication and publishing rights to the contest organization for the purposes of disseminating and promoting the contest, as well as for exhibition purposes in traveling exhibitions related to the organization, always quoting the author's name without prejudice to their own rights as authors.
The participants claim to be the owners of the rights of the submitted photographs and are responsible for their content with full compensation from the contest organizers and sponsors.
Theme: