Photographique Analogue Award
The Photographique Analogue Award is now open for submissions!
Deadline: 1 July 2018
Entry fee: 12€ per image
Submit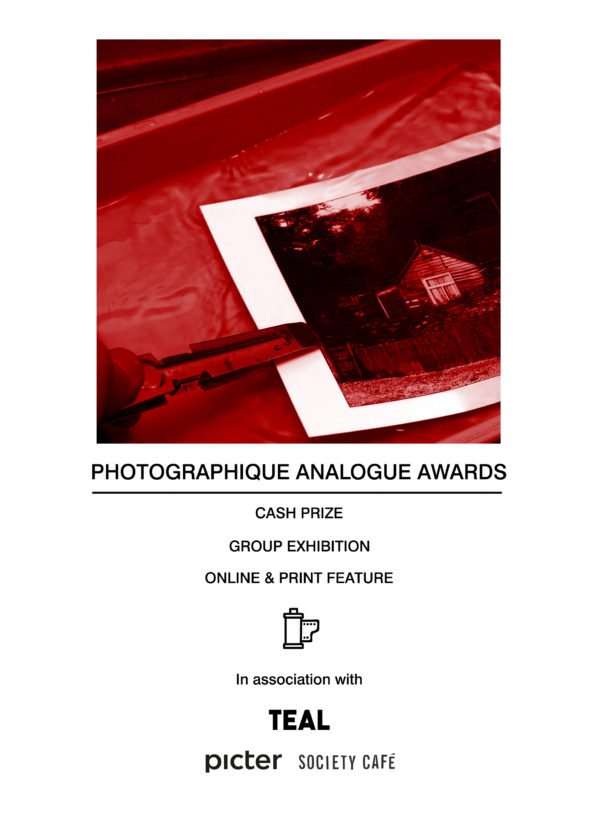 The Photographique Analogue Award is our first open call since 2015. This time things are a little different, we are accepting submissions for analogue photography only. Film is back, and some say it never left, we are thrilled to accept work internationally from all that love film photography and analogue processes. From professional photographers to students. We are excited to highlight the very best analogue photography and look forward to receiving your submissions!
Photographique opened in Bristol in early 2008 with the aim of providing a professional and personal experience for photographers. An independent lab to get film developed and high quality prints made. 10 years on we have moved locations and changed our look but our passion for film photography and photographic processes is stronger than ever! With the evolution of the company we have built up a community of student, professional and amateur photographers.
We are pleased to announce we will be working with some very talented judges from different areas of the photographic and creative industry including; Director and Photographer Esther May-Campbell, Editor of TEAL Magazine Jaicel Asegurado, Curator at Arnolfini Benjamin Thomas and Photographer Naomi Wood.
The winner will receive a cash prize of £500, and a solo article printed in TEAL magazine. Shortlisted entrants and the winner will take part in a travelling group exhibition.
-------------------------------
Juror information
Esther May-Campbell, Director and Photographer, esthermaycampbell.com
Esther May Campbell is a photographer and filmmaker from the west of England. She rediscovered the joy and expression of Black & White photography using a shared SLR camera while betweens locations. Known for her moving image work, she wrote and directed BAFTA winning short, September, which receiving multiple awards before being released by Invada Records. Her feature film Light Years premiered at the Venice Film Festival and features Beth Orton and Muhummet Uzner, with sounds from Eric Chenaux and Chris Watson. She's directed Skins and Branagh's Wallander and is part of the Cube Cinema's Kids Kino Project, a community cinema for displaced children.
Jaicel Asegurado, Editor of TEAL magazine, tealmagazine.com
Founder and Editor in Chief over at Teal Magazine. A platform based on film photography, art, music, and culture. The main focus is to connect with their readers who are craving for quality content and in-depth stories with powerful photographs. But most of all, showcasing various creatives all over the world. The team is located in different cities across the US and the UK. Started in 2017 and now currently curating their first print issue.
Benjamin Thomas, Artist and Curator at Arnolfini, bengjthomas.com
Ben is a producer, educator and artist. He starting his career leading photography projects for organisations including The British Refugee Council, Save the Children and Amnesty International, whilst working as a photographer for publications including The Wall Street Journal. Since 2014 Ben has worked for Arnolfini, leading projects across the organisation. Alongside this work Ben continues his own practice, runs artist-led projects and lectures at universities across the U.K.
Naomi Wood, Photographer, naomi-wood.com
Based between Bristol and London, Naomi Wood is a portrait photographer working across fashion, music and editorial commissions. Working with brands that promote inclusivity and diversity, her personal work looks to redefine standard notions of beauty. Clients include: Soho House, Crack Magazine, The Sunday Times Style and Christie's Magazine.
Prizes:
The winner will receive a cash prize of £500, and a solo article printed in TEAL magazine. Shortlisted entrants and the winner will take part in a travelling group exhibition.
Eligibility:
Open to all internationally, professionals, amateurs and students.
Copyrights & Usage Rights:
While copyright of all work submitted for this award remains with the respective entrants, the entrant grants to Photographique a license to reproduce representative examples of the submitted entries in any of their publications, websites, and/or in any promotional material, strictly in connection with the award, and with reference to the photographer/artist.
Theme: