PhotoSummer – Conjured Futures projection
Juried projection addressing new technologies and shaping the future.
Deadline: 25 May 2018
Entry fee: $20 entry fee, $5 for CENTER Members and New Mexico Residents.
Submit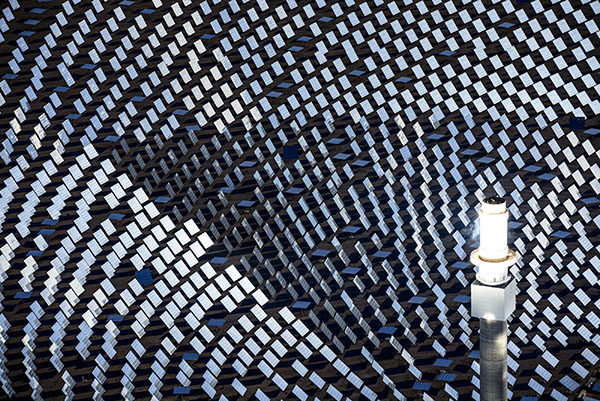 CONJURED FUTURES
Call for Entry open: April 19 – May 25, 2018
When: Friday, June 8 and Saturday, June 9
Where: The Santa Fe Railyard, near the Second Street Brewery
In conjunction with the Interplanetary Festival
Conjured Futures is a juried projection featuring photographic images that address or question new technologies, policies, and movements that are shaping the future of humanity. In this curation, we focus on projects that look at solutions or alternate outcomes. So often in western society do we see an emphasis that is put on destruction and problems, without considering what can be done to remediate damage.
In the last 5 – 10 years with the advent of drone photography and popularity of aerial photography, there have been many projects documenting the massive changes to the environment caused by human activity. These projects have helped to generate an understanding of humanity's present environmental and socio-political crisis, and now it is time to think about the future. How are technologies being used to preserve and restore the environment? What does the future look like? What is being done to take control of our futures?
All photographic projects addressing the themes of Conjured Futures are welcome to apply to the Call for Entry. $20 entry fee, $5 for CENTER Members and New Mexico Residents.
Image Credit: ©Jamey Stillings
Prizes:
This summer CENTER is teaming up with the Interplanetary Festival and the Currents New Media Festival in Santa Fe, NM to produce two public projection programs. On Friday June 9th and Saturday June 10th, Conjured Futures will show in the Santa Fe Railyard alongside the Interplanetary Festival, and on Friday June 15th and Saturday June 16th, Color Cue: Explorations in Perception will present in the same location alongside the Currents New Media Festival. Calls for Entry are now OPEN, and we are looking forward to seeing your work!
Eligibility:
Photographers
Copyrights & Usage Rights:
Photographer retains all rights the images. By completing the application, the photographer grants CENTER permission to reproduce works from their submitted materials in connection with the administration, judging and promotion of CENTER, the CENTER Awards, Grants and portfolio review events. Permissible uses of the images submitted shall include their reproduction, distribution and display in CENTER exhibitions, multimedia presentations, and printed materials related to promotion of CENTER and the CENTER Awards and events. CENTER shall have the right to grant permissions to the press and publicity agents in connection with the promotion of the CENTER Awards, exhibitions, and related events. All Grant recipients, including the Juror's Choice as well as the winners of the CENTER's Choice Awards are asked to donate a print to CENTER. Submission of an entry to these awards, grants or portfolio review, signifies acceptance of all conditions stated.
Theme: