The Pilar Citoler International Biennial Prize for Contemporary Photography 2019
€15,000 prize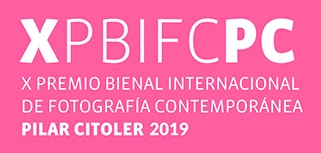 The call is open to contemporary visual artists of any nationality. The 10TH EDITION OF THE PILAR CITOLER INTERNATIONAL BIENNIAL PRIZE FOR CONTEMPORARY PHOTOGRAPHY 2019 will particularly take into account the candidates' body of work, their international exposure and their engagement with current themes in contemporary photography.
A catalogue will be published featuring the works of the selected artists for this edition of the prize, together with a monograph analysing the 2019 winner's career and body of work. This monograph will become part of the "El ojo que ves, Pilar Citoler (PBIFCPC) prize" contemporary photography collection and it will be edited by the University of Córdoba Publications Service in possible collaboration with an external publishing house. The winning artist will receive fifty printed copies of the monograph at no cost.
Prizes:
A single prize will be granted consisting of three parts
1) FIFTEEN THOUSAND EUROS. This purse will be subjected to any applicable taxes. The winning work will become part of the art collection belonging to the Universidad de Córdoba. The award ceremony will take place in February, 2020.
2) SOLO EXHIBITION. To take place during the last term of 2020 or the first term of 2021. The exhibition will showcase the artistic body of work of the winner of this Biennial Prize. The technical characteristics of the exhibition will be determined by the institution organizing the Prize. The exhibition's production and the framing of the works to be displayed in its entirety will the responsibility of the winning artist.
3) MONOGRAPH ("EL OJO QUE VES" COLLECTION, NUMBER 10). Publication of a monograph, in 2020-2021, that will analyse the body of work and career of the winning artist. The technical characteristics of this edition will be the same established for the "Ojo que ves" collection, Pilar Citoler Prize, with the collaboration of the curator of the exhibition. The winning artist will provide the digital images for the book and any other material required for its proper completion. He/she will be able to choose one or two people who will write a text for such monograph.
Eligibility:
International
Copyrights & Usage Rights:
Accept that the competition organisers may reproduce and/or license the image of any of the works selected for the 10TH Edition of the PILAR CITOLER INTERNATIONAL BIENNIAL PRIZE FOR CONTEMPORARY PHOTOGRAPHY 2019 for commercial, cultural or educational purposes, or to promote the competition using any international media, including catalogues and internet. The artist and any person(s) appearing in their works understand and accept that they will receive no payment for the above.
Theme: