Pink Lady Food Photographer of the Year 2017
The prize pool is worth more than £10,000
Deadline: 5 February 2017
Entry fee: From £25
Submit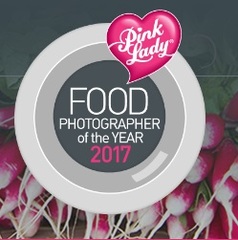 Open to professional and amateur, old and young, the Awards celebrate the very best in food photography and film from around the world.
The Finalists are invited to a magnificent Champagne Taittinger reception at the world-renowned Mall Galleries, London followed by a five-day public exhibition.
The prize pool is worth more than £10,000 and Finalists benefit from huge amounts of coverage of their work.
Theme: Food
Categories:
Errazuriz Wine Photographer of the Year
Food for Celebration sponsored by Champagne Taittinger
Production Paradise Food off the Press
unearthed® Food in Film
Partridges Food for Sale
InterContinental London Park Lane Food at the Table
World Food Programme Food for Life
Startisans Food in the Street
Food for the Family
Bring Home the Harvest
Food Blogger
Politics of Food
Pink Lady® Apple a Day
Cream of the Crop
Food in the Field
The Philip Harben Award for Food in Action
Marks & Spencer Food Portraiture NOTE: Entries to this category may not have an association with any other retailer
Marks & Spencer Food Adventures NOTE: Entries to this category may not have an association with any other retailer
Food Sn-apping in aid of Action Against Hunger Registered charity no. 1047501
Young (under 18s)
Prizes:
YOU can win £5,000 and the title of Pink Lady® Food Photographer of the Year 2017.
You will be provided with 2 nights' accommodation at the InterContinental London Park Lane in a double room with breakfast.
You will get a Lifetime Zenfolio VIP Account.
Your work displayed in the Mall Galleries
All category winners will receive a prestigious trophy.
+ more interesting awards.
Eligibility:
Open to all photographers internationally.
Copyrights & Usage Rights:
Winning images will be used by the Organisers for a period of 14 months from the announcement of the winners and thereafter the Organisers may keep the winning images within an archive (electronic or otherwise) for a period of 3 years from announcement of the winners, after which permission will be sought from the photographers should their images be used in connection with the awards and or exhibition.
Theme: