PIXUP – Black and White Photo Challenge
Share your best B&W photos to earn cash awards!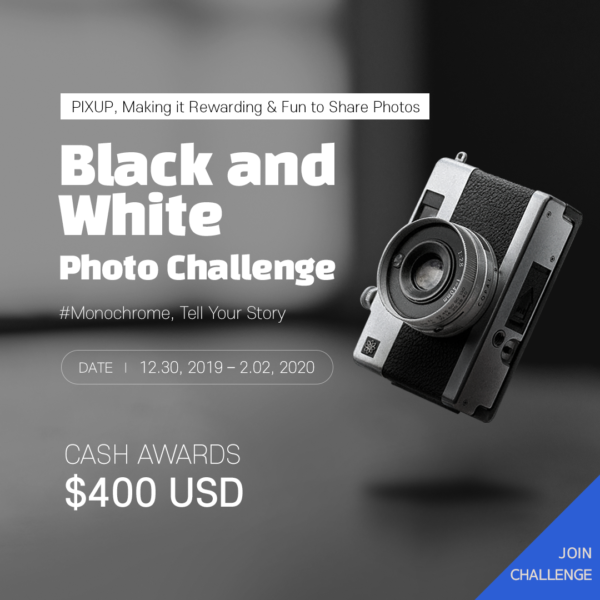 A black and white picture that tells the story only by light
excludes many, but describes much more.
Although it has no color,
Black and white photo can show more details.
It may evoke the scent of the past,
it may expose feelings from portrait,
it can also turn scenery photos into abstracts.
Through various textures between black and white,
Tell us your story.
Share your black and white photos on Free Market
with the challenge tag PIXUPCHALLENGE_BNW.
We will be choosing three winners for this challenge.
TOP 1 (1 person) will be receiving $200 USD and
TOP 2 ( 2 persons) will be receiving $100 USD each.
The winners will be announced on February 4 (Tuesday) on this page.
And we will also mail the winners separately for the cash awards.
Photography becomes more fun, PIXUP
Prizes:
3 winners will get :
TOP 1 $200 USD (1 person)
TOP 2 $100 USD each (2 persons)
※ The cash award will be given out through Paypal.
※ We will be reaching out to winners through email.
※ All winners get challenge badge which will be displayed on profile page.
Eligibility:
open to everyone
Copyrights & Usage Rights:
1. Copyright of all entries and winners' photos stay with the contributors.
2. Photos shared on Free Market can be downloaded free by all members of PIXUP under the PIXUP license.
3. Contributors who shared works on Free Market will receive 50% of monthly advertising revenue as 'Grant'.
Theme: