Portrait Photography Awards 2023
We want you to show us your photographs so we can show it to the world
Deadline: 31 March 2023
Entry fee: 30€
Submit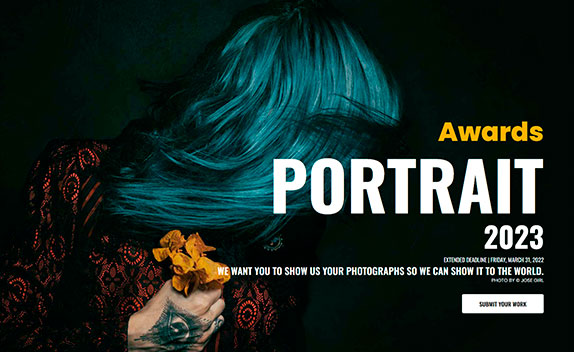 WE INVITE YOU TO PARTICIPATE IN THE FIRST EDITION OF THE PORTRAIT AWARDS. WE ARE LOOKING FOR THE BEST PORTRAIT FOR THIS YEAR, 2023.
Portrait photography in all its dimensions, from the most classic portrait to the psychological and abstract portrait. the attitude, the personality, the unique nature of people. the art of portrait photography
Our call is open to any interpretation of portrait photography. Color, black and white, surrealist, conceptual, artistic, self-portraits, stolen.... Any genre that reflects a unique expression, an unrepeatable personality, the personal moment of a state of mind has a space in this call.
The portrait is the great genre of photography and also one of the most difficult, it requires a lot of technique and a great photographic eye to get results. The history of the portrait subject, the moment, the composition, the use of light are essential ingredients for a portrait to transmit its essence and emotion through the message it contains.
After 10 years of promoting talented photographers, we have designed the Portrait Awards to discover incredible images and photographers who wish to take a step up in their career through recognition and international visibility that only the Portrait Awards can give them. Your images need to be seen and we will make it happen. We want you to show us your work so we can show it to the world.
THE PORTRAIT PHOTOGRAPHY AWARDS ARE DESIGNED FOR YOU AND YOUR WORK ACHIEVE INTERNATIONAL RECOGNITION
An international jury composed by Gurdas Dua, brand ambassador for Sony. Catherine Edelman, director of the prestigious Catherine Edelman Galley from Chicago, HJIM Van Gasteren, Professional photographer and Maria Oliva from the management team of Dodho Magazine will select the images and photographers awarded in this first edition of the Portrait Awards 2023.
The winner of the competition will receive the title of Photographer of the Year and a cash prize, in addition to being published in a place of honor in the annual Portrait Awards book, along with the 100 finalists, second and third place winners and two honorable mentions. In addition, the 25 best images will be exhibited for one year in our online gallery, which receives thousands of visits from industry professionals.
Prizes:
Cash prize for the best portrait and photographer of 2023 | published as the best portrait of the year 2023 | great exhibition of your work | certified as best portrait photography of 2023
Eligibility:
The call is open to all amateur or professional photographers over 18 years old and from all over the world.
Copyrights & Usage Rights:
All participants to Portrait Awards 2023, by virtue of their presentation, believing the images and projects presented are their own work and there has been no infringement of copyright. Dodho is not responsible for any infringement of rights may arise during the selection process and subsequent display of any image. The entrant is responsible for obtaining, prior to submission of the photograph, any and all releases and consents necessary to permit the exhibition and use of the photograph. The projects will be judged by a professional and relevant jury in the photography field, with no flare and none of the author data. The jury's decision will not be appealable and will be definitive.
Theme: