Primal Sight: Open Call for Contemporary B&W Photography
In the In-Between seeks new and innovative B&W photography work
Deadline: 12 January 2020
Entry fee: Free
Submit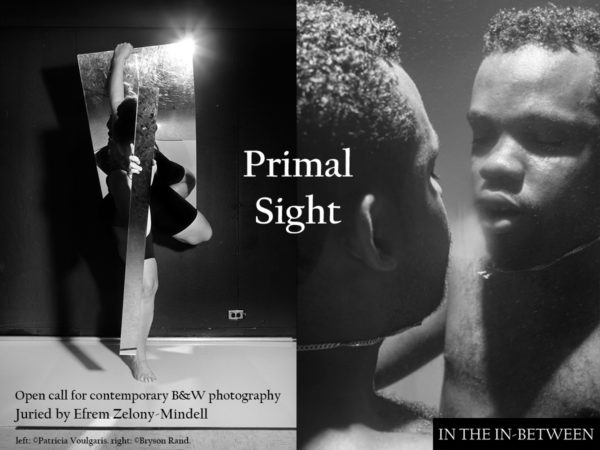 In the In-Between seeks contemporary B&W photography in all its forms for its next online exhibition. Primal Sight will be juried by NYC-based curator and writer, Efrem Zelony-Mindell.
Juror's Statement:
"The world of color has no curiosity because it is literal. Regardless of differences, there is something universal in how humans try to make sense of the world. We become comfortable or unsure and Black-and-White imagery becomes something else. There is a feral looker sinking into the eyes of such frames. They are unimaginably photogenic. These images are not looked at; they brood at you."
– Efrem Zelony-Mindell
Submission Information:
-This exhibition is open to all photographic styles and techniques (in keeping with the theme of B&W)
-Please submit up to 20 jpegs sized to 72dpi and 1000 on the longest side. Images must not exceed 1MB in size.
-We request a $6 submission fee, which helps to offset our administrative costs and support future programming.
-If you can't afford the fee or are otherwise opposed to it, you may email your submission to: editor (at) inthein-between (dot) com
Prizes:
Selected entries will be included in the online exhibition Primal Sight, to be published on In the In-Between in March 2020. All entries will be considered for future iterations of this ongoing curatorial project.
Eligibility:
Open to all photographers 18 and older worldwide
Copyrights & Usage Rights:
Photographers retain all copyright to their work. In the In-Between may use your image for promotional purposes related to this open call and exhibition.
Theme: