Rebecca Vassie Memorial Award 2022
Submissions open for fifth Rebecca Vassie Memorial Award, photography
Deadline: 8 April 2022
Entry fee: Free
Submit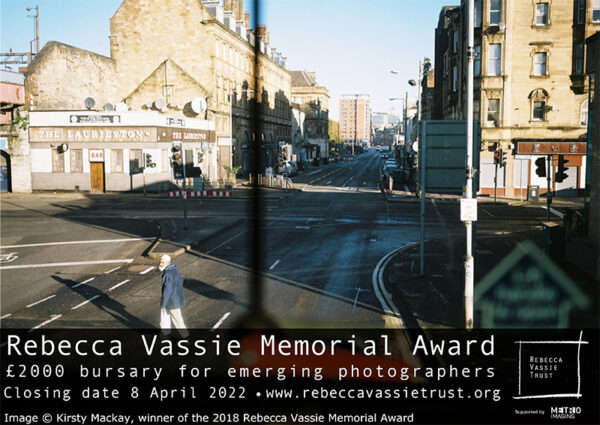 The award is for photographers at early-to-mid career stage. By this we mean a working professional photographer, probably trained, with some experience, but who does not yet earn a full living wage from their preferred style of photographic work.
There is no age limitation, and no requirement for art school or university education.
We warmly encourage photographers from culturally diverse backgrounds, those whose gender identity differs from their assigned sex, and those with disabilities.
What are we looking for?
We will fund a stills photography project that is either brand new, or in its earliest stages, and which you can undertake within 12 months of receiving the award (i.e. by June 2023 latest). The Trust must be the primary funder of the project and we will not fund projects that are already well underway. Therefore, you should apply with a project of suitable size for a £2,000 bursary.
We've used the word 'narrative' to describe the kind of photography we want to fund. This is because what's most important to us is to tell human stories within a social or political context. While this is often approached through documentary photography or photojournalism, we are also open to photographers who work across genres such as fine art or portraiture.
Prizes:
- £2,000 to cover all costs (including personal fee) for the project
- Mentorship and £500 print credit (excludes self service, film sales, framing, retouch) from the wonderful Metro Imaging
- Support from the Trust throughout the project, and promotion of your work through our online channels
- Membership of Shutter Hub
Eligibility:
UK citizens or residence
Copyrights & Usage Rights:
The winner will be asked to sign a formal agreement with the Trust, including a schedule of work and a series of progress meetings.The Trust reserves the right to use the names of longlisted and shortlisted candidates, including the winner and any runners-up, in promotional material.
The copyright for all images created through this award remains with the photographer. However, the support of the Trust must be acknowledged in any subsequent exhibition, presentation, publication or other display or usage of images resulting from the award.
The Trust will retain the right to use, publish and display images resulting from the award, credited to the winner, in promotional material.
Theme:
Abstract Alternative process Black and White Conceptual Documentary Environmental Fine Art People Portrait Photojournalism