Reclaiming your Rights
What does access to reclaiming your rights look like to persons with d
Deadline: 15 September 2019
Entry fee: Free
Submit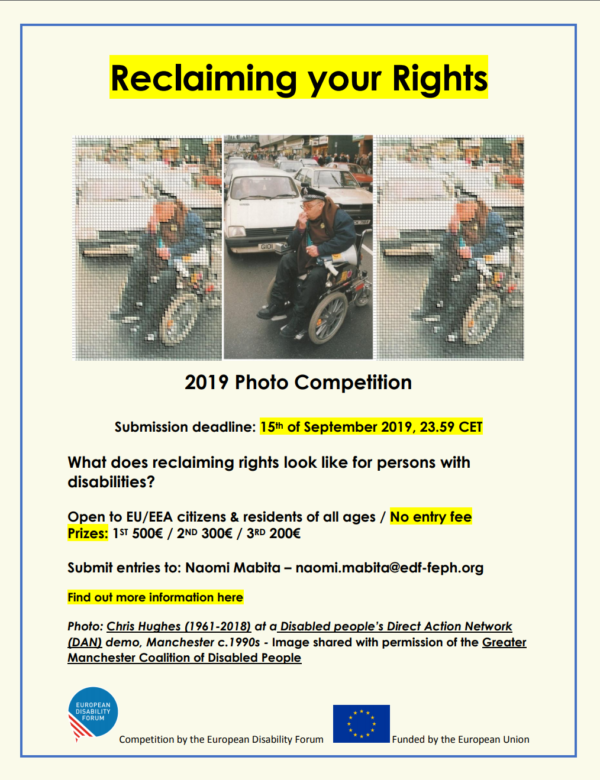 How does one capture what justice looks like in a single image, let alone access to it? We are extending the question to you in an appeal to your creativity for this year's EDF photo competition "Reclaiming your Rights".
Whether it be portraits of activists, survivors, images of voting, court proceedings, rallies, speeches, etc., we are looking for engaging visuals that put forward the experience of people with disabilities throughout the political, legal and justice system – in a single photograph, of which three will be selected for prizes. Furthermore, as part of the Just4All project launched last November, some of the submitted images will be used to illustrate a report compiling positive practices currently facilitating access to justice for persons with disabilities in the European Union.
Prizes:
Out of the 20 finalists, the Jury will select the 3 final nominees. These 3 final nominees will be invited to Brussels to take part in the European Day of Persons with Disabilities organized by the European Commission on the 28 and 29 of November in Brussels. The three final nominees will receive:
1st place award: 500 euros
2nd place award: 300 euros
3rd place award: 200 euros
Eligibility:
EU/EEA citizens and residents
Copyrights & Usage Rights:
All entries must be original work and the participant must either be the sole owner or the transferee of the copyright.
By entering the competition, participants retain full copyright of their images. However, participants also agree to be bound by Facebook legal terms (https://www.facebook.com/legal/terms). Participants also grant the European Disability Forum the right to publish and exhibit uploaded photographs.
Participants must obtain and provide written consent from any adult who are identifiable in a photograph. Participants taking a photograph of children, ensure that they obtain and provide us with the written consent of that child's parents/guardian
Theme:
Black and White Documentary Multi-categories Culture People Portrait Photojournalism Self-Portrait