Red Bull Illume Image Quest 2021
Total value of around € 100.000
Deadline: 31 July 2021
Entry fee: Free
Submit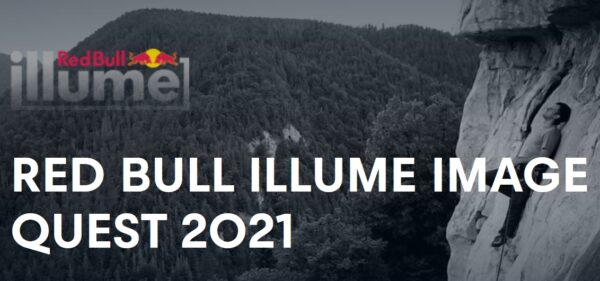 The Image Quest 2021 is the sixth edition bringing together the amazing work of photographers and content creators from around the world.
A judging panel of 50 photo editors and digital experts will select the Finalists, Category Winners and 1 Overall Winner, to be unveiled at the Winner Award Ceremony in November 2021.
Red Bull Illume is the world's greatest adventure and action sports imagery contest. It showcases the most creative and captivating images on the planet, while illuminating the passion, lifestyle and culture behind the photographers that shoot them.
In 2022, all finalist images will be presented around the globe providing an unprecedented level of exposure.
Prizes:
Overall and category winners will receive a selection of outstanding prizes from reputable brands with a total value of around € 100.000,-
Eligibility:
The contest is "open submission".
Copyrights & Usage Rights:
All images submitted for consideration in the Red Bull Illume Image Quest 2021 contest remain the sole property of the creator. Entrants retain copyright over each of their photos and moving images.
Entrants grant Red Bull GmbH and its affiliates, subsidiaries, sponsors and partners the sublicensable, non-exclusive, worldwide and perpetual right to use and exploit the submitted images without compensation in the context of Red Bull Illume, the Red Bull Illume contests, the Red Bull Illume Exhibition Tours and/or for Red Bull Illume promotions, marketing, advertising, events and exhibitions of all kind.
Theme: