Reflections Photography Competition Win Up To $5,000!
Reflections is the theme for this months competition.
Deadline: 7 April 2018
Entry fee: $12
Submit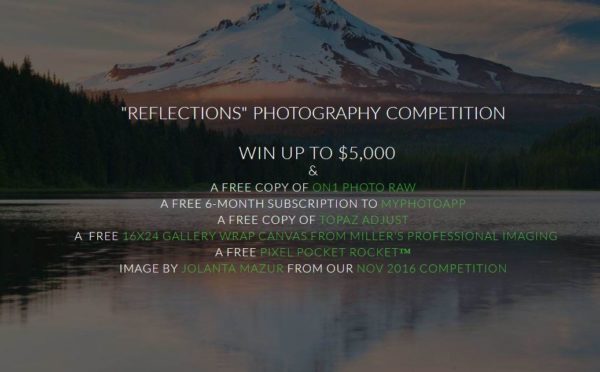 Reflections is the theme for this months competition.
​From endless materials and objects around us, glass water, rivers or drifting tides reflections have long been a wonderful part of many magnificent images in photography. What really seems to set them apart always seems to be a step away from the traditional rules as though them seem to take on a personal introspective perspective while being framed up.
Show us your best frames and moments captured of the reflection!​
Works will be selected based on creativity, quality of execution and uniqueness of vision. The work can be expressed from realism to abstraction.
Prizes:
Cash Awards up to $5000 the Top Three Photographers
First Place also receives an additional $550 in photography products and services with:
- A free copy of ON1 Photo 10
- A free copy of TOPAZ ADJUST
- A free 6-month Subscription to MyPhotoApp
- A free 16x24 Gallery Wrap Canvas from Miller's Professional Imaging
- A free Pixel Pocket Rocket™
Eligibility:
Worldwide
Copyrights & Usage Rights:
You retain the copyright of your work.
Submissions will only be used for the sole purpose of judging and promoting the competition.
Theme: