SAVE THE FROGS! Photo Contest
Want to save amphibians? This contest is for you!
Deadline: 1 December 2017
Entry fee: $10 for entrance in grand prize / free submissions accepted too
Submit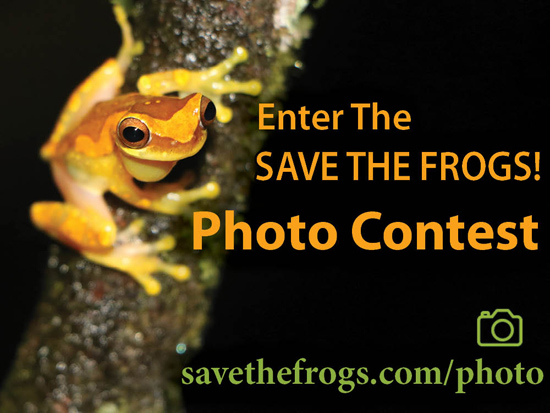 Amphibian populations worldwide are in the midst of a mass extinction crisis, yet most people are completely unaware! We need your help in getting the word out: we encourage all nature lovers to enter the inaugural SAVE THE FROGS! Photo Contest! The contest will raise awareness of the amphibian extinction problem by getting people involved and interested, and the photos will be used on t-shirts, stickers, books, and in webpages and social media posts to both publicize our cause and raise funds for SAVE THE FROGS! amphibian conservation efforts. There are three categorizes for entering photos: Anuran (Frogs & Toads)
Caudates (Salamanders & Newts)
Gymniophones (Caecilians)
Young Photographers (Must Be Under 18 At Time Of Submission)
Prizes:
The Grand Prize Winner will:
(1) Receive half of the Jackpot. This is CASH!
The more paying contestants, the larger the Jackpot.
The Jackpot equals ($9.48) * (the number of paying contestants).
The $9.48 represents a contestant's $10 entry fee minus credit card processing fees.
Thus if there are 1,000 paying contestants, the jackpot would equal $9,480...of which the Grand Prize winner would win half ($4,740).
Are you wondering where the other half of the Jackpot goes? The Grand Prize Winner and SAVE THE FROGS! split the jackpot, with the SAVE THE FROGS! half going directly to our worldwide amphibian conservation efforts!
(2) See their winning photograph featured on the SAVE THE FROGS! website.
(3) Receive frog fame!
The Category Winners will:
Each receive a free T-shirt, wristband and sticker. Category winners do not receive cash prizes.
Eligibility:
Anyone
Copyrights & Usage Rights:
By entering this contest, each contestant consents to the use of his/her name, and/or photos in any merchandise, advertisements, educational materials or publicity carried out or produced by SAVE THE FROGS! and its advertising and promotional agencies without further notice or compensation. SAVE THE FROGS! can publish or decline to publish, or use or decline to use, any submitted photographs at SAVE THE FROGS! sole discretion. In turn, the contestant still retains the rights to use and publish their photographs.
Theme: