Science In Focus | Science photography competiiton
Share your encounters with science in everyday life!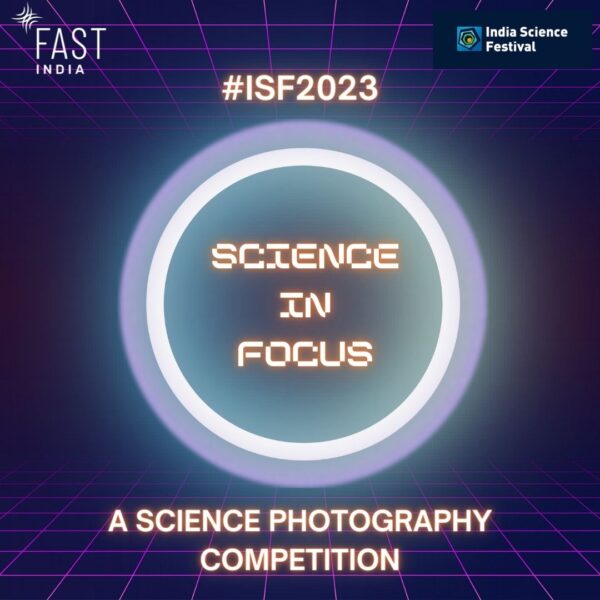 Foundation for Advancing Science and Technology (FAST India) is a non-profit dedicated to building capacity and advancing policy solutions that foster scientific enquiry and research, and facilitate the creation, dissemination and translation of new scientific knowledge in India.
FAST India's flagship event, India Science Festival (ISF), has already emerged as India's largest non-governmental platform for public celebration of Science and Technology (S&T).
Photography has emerged as a powerful tool to tell stories of science and simplify scientific ideas and concepts that are difficult to capture through words. It has long served as an interface between science and society.
'Science in Focus' is the annual science photography competition of India Science Festival. This competition is open to everyone and encourages participants to showcase their photography skills. The finalists of this competition will have their entries displayed at a physical photo exhibition at Hyderabad, in January 2023.
The theme for the photography competition is 'Everyday Science'. Science is not just confined to research labs or classrooms, it's a way to make better sense of the world around us and to help solve our many problems. This competition will allow participants to share their encounters with science in everyday life.
Prizes:
1st Prize: 30,000 INR
2nd Prize: 20,000 INR
3rd Prize: 10,000 INR
Eligibility:
Open to Everyone
Copyrights & Usage Rights:
The Foundation for Advancing Science and Technology (FAST India) will be storing contact information and competition entries as part of the India Science Fest database. Shortlisted entries will be publicized on ISF's various social media handles, the ISF blog page and our annual magazine.
Theme: