Seeking Featured Artists – Solo Exhibition + Curate/Juror an International Juried Show
Seeking artists for solo exhibitions of their work!
Deadline: 10 July 2017
Entry fee: 35
Submit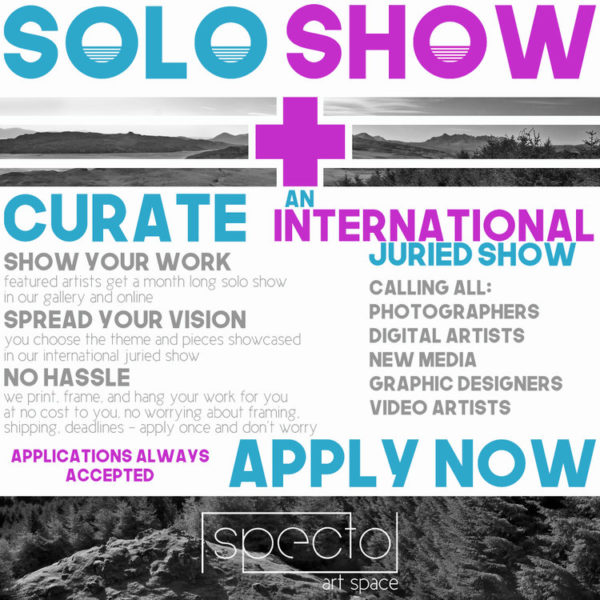 SEEKING FEATURED ARTISTS: Solo Exhibition + Curate/Juror of an International Juried Show
Deadline: August 10th
Application Fee: $35
When: 2017-2018 Exhibition Season
Where: Specto Art Space, Harrisonburg Area, VA, USA
What: Photography, Graphic Design, Digital Art, Film
How: 8-15 works of art, check out our prospectus for more info!
How Much: $35 Application Fee (used for promoting shows, maintaining galleries, supporting artists)
Why: Specto offers FREE:
Printing
Matting
Framing
No cost or stress of printing, framing, and shipping your works!
Specto offers a unique experience, in that featured artists receive a month long solo exhibition, as well as the chance to choose the theme for and the pieces in an accompanying international juried show. Add curator to the list of things you've done. Apply today.
Prospectus: https://spectoartspace.com/featured-artist-call-for-entry