Shin Kong Mitsukoshi International Photography Contest 2021
First Place (1 winner):NTD 120,000
Deadline: 15 November 2020
Entry fee: Free
Submit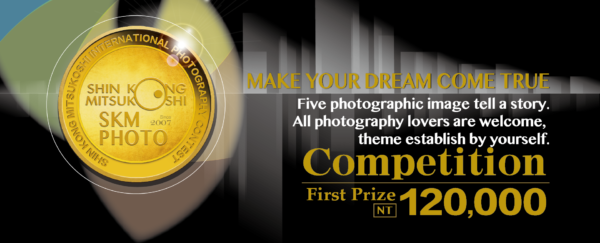 The Shin-Kong Mitsukoshi International Photography Exhibition has been held since 2007 with the aim of providing a stage for photographers to show their talent. Unlike most competitions, this event allows participants to decide their own photographic themes and tell a visual story with five images. Beyond a test of photographic technique, this approach also challenges the artists' subject selection, conceptual clarity, and communication ability. In addition to the prizewinners receiving generous awards, the prize-winning works will be displayed in a touring exhibition shown at Shin-Kong Mitsukoshi department stores in northern, central, and southern Taiwan, enabling even more people to appreciate the photographers' visual stories.
Prizes:
First Place (1 winner):NTD 120,000
Second Place (1 winner):NTD 60,000
Third Place (1 winner):NTD 30,000
Special Jury Award (2 winners): RICOC GR III
Outstanding Work Award (5 winners): GARMIN Instinct GPS watch
Selected Work Award (10 winners): SUNPOWER N2 Magnetic
Special Award of the Year (3 winners):DJI OSMO POCKET
Eligibility:
All photography lovers are welcome, no age limiyworldwide
Copyrights & Usage Rights:
Entrants agree to authorize gratis copyright of the prize-winning work to the organizer, which will be irrevocable, with permanent effect, and applicable worldwide, i.e. the right to reproduce, distribute the prize-winning work or make derivatives thereof (including record of the creator's name) on any media at the present or in the future, e.g. use it in series events of Shin Kong Mitsukoshi International Photo Joint Exhibition for the purpose of event promotion, display the prize winner's work publicly, use it in graphic productions of this event and publish it on websites, etc. Prize winners that don't consent to the above conditions will be deemed as waiving their prize-winning right. Entrants cannot take any action or make any statement violating rules of this contest once entered.
Theme: