SHOOT 2017 Behind The Scenes (BTS) Photo Contest – Winter 2017 Edition
The SHOOT BTS Photo Contest is open to all amateur & pro photographers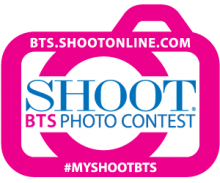 The semiannual SHOOT BTS Photo Contest is for any motion picture production or post crew members, actors or observers to enter BTS photos from Films, TV, Commercials, MVs, and Web videos. The Contest is a perfect showcase opportunity for those who are creating, shaping and defining the world of motion pictures production and post. The Contest is open to all amateur and professional photographers in the United States, Canada, and worldwide except where prohibited by law including actors, producers, writers, directors, cinematographers, editors, vfx artists, music & sound producers, designers & mixers, production designers, art directors, costume designers, make-up artists, gaffers & grips, carpenters, animators, set unit still photographers, ADs, PAs, publicists, legal advisers, location managers, and others involved BTS in the filmmaking process.
Prizes:
The winning image will be published on a SHOOT magazine cover and the winning photographer will receive a minimum of $500. USD. Runner-up photo will be published in SHOOT magazine cover and the photographer will receive a minimum of $250. USD. Honorable mention photos will be published in SHOOT magazine and the photographers will receive a $25. Starbucks card. (Note: If sponsors are secured, SHOOT will award larger material or cash prizes.) And, during the Winter contest period, one (1) photo will be selected each weekday as "SHOOT Magazine BTS Summer Photo Contest ENTRY OF THE DAY" and will be posted to SHOOT BTS Photo Contest Instagram page as well as SHOOT's Instagram, Facebook, and Twitter accounts.
Eligibility:
Open to all amateur & professional photographers
Copyrights & Usage Rights:
By submitting, you confirm that the images are lawfully yours (or your clients if agent) and you retain full copyright discretion. As between you and SHOOT, each entrant shall retain ownership of all intellectual property rights in the entry subject to the Official Rules. Photographs owned by a third party, are acceptable IF license has been secured to permit your submission to this contest and allows the Producer to use the images as outlined in all these rules.
If a submitted image includes other people, entrant must be prepared to provide a signed written personal release from all persons who appear in the image authorizing use of the image. Entrants do not need to send release(s) with submissions but will be contacted if personal releases are needed. Failure to provide the required releases will result in disqualification of the entry. SHOOT is in no way trying to infringe on the copyrights, work rules, union or guild rules or businesses of any movie, TV, commercial, other other motion picture producer(s). By entering this Contest, an entrant is indicating his/her bts photo(s), when taken, are not in violation of:
or infringe upon another person's, company's, or union/guild rights, including but not limited to U.S. copyright law, production vendor contracts, non-disclosure agreements, and employment contracts, etc.;
Any "work for hire" agreement or contract under under U.S. copyright law;
guidelines and policies set by the production company and/or studio and/or advertiser/brand or other motion picture producer
When shooting production and behind-the-scenes stills on set is being performed by a designated unit still photographer, do not interfere with the work of that production employee. Make sure that any photographs you take are within the guidelines and policies set by the production company.
At the sole discretion of the Producer, photos entered in the Contest that violate or infringe upon another person's or company's rights, including but not limited to copyright or "work for hire" copyright, producer or union/guild rules are ineligible and will be disqualified from the Contest. And, Contest Producer reserves the right to reject and remove any submissions deemed in violation of a production's rules, in place at time of when photo taken, or inappropriate in nature, without recourse or explanation. And the photographer, or their agent, may be banned
Theme: