Smithsonian Magazine Photo Contest 2022
Grand Prize: $2,500
Deadline: 30 November 2022
Entry fee: Free
Submit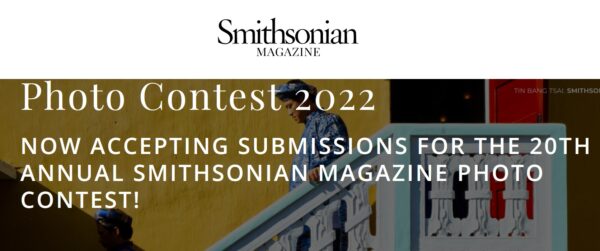 The following six contest categories are drawn from subjects of special interest to Smithsonian magazine:
• Natural World: Animals, plants and landscapes; geological or climatological features; and scientific processes and endeavors.
• Travel: Locales, peoples or activities in the United States and abroad that convey a sense of place.
• People: Portraits and photos of groups or individuals.
• The American Experience: Events, objects or activities connecting the American people to their history or their cultural heritage; photographs that tell us what it means to be an American and provide a sense of what it is like to live in this country.
• Artistic: Visuals that use photography as a creative and imaginative platform to express an idea or concept. These images can be manipulated in any method, either through photo editing software or other techniques.
• Drone/Aerial: Any photograph captured using an unmanned aerial vehicle, commonly known as a drone. Images shot from planes/helicopters are also accepted.
Photo entries will be judged based on creativity, quality, originality, responsiveness to the prompt and overall impact.
The Smithsonian will select 10 finalists per category, a winner for each category, and a Grand Prize winner from the 60 finalists. The 60 finalists will be notified of their status and appear on our website in March 2023. At that time, the public can vote on our website for the Readers' Choice winner from among the 60 finalists. The Readers' Choice winner, Grand Prize winner and category winners will be revealed online in spring 2023. These dates may be subject to change.
Prizes:
• Grand Prize: $2,500
• The winners of each of the six categories will receive $500.
• Readers' Choice winner: $500
Eligibility:
The Grand Prize, Readers' Choice prize, Natural World, Travel, People, The American Experience, Artistic Images and Drone/Aerial category prizes are open to photographers who are 18 years old or older.
Copyrights & Usage Rights:
You retain your rights to your photograph; however, by entering the contest, you grant the Smithsonian Institution (and those authorized by the Smithsonian) a royalty-free, world-wide, perpetual, non-exclusive license to publicly display, distribute, reproduce and create derivative works of the entries, in whole or in part, in any media now existing or later developed, for any purpose, including, but not limited to, advertising and promotion of the magazine and its website, exhibition, and commercial products (this includes any sales of products utilizing the photograph), including but not limited to Smithsonian Institution publications.
Theme: