Snap a Sunset – Competition for Bloggers
Sunset photography competition for UK Bloggers
Deadline: 16 January 2016
Entry fee: Free
Submit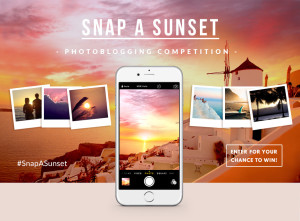 Sunset photography competition for UK Bloggers – with the chance to win a luxury VIP holiday to Greece.
Olympic appreciate a gorgeous hot Mediterranean day – but they also love to watch the sun go down at the end of it!
If you've got a great photo of a San Antonio sunset from a trip to Ibiza, or a fantastic snap from Santorini from a holiday in Greece, we think you could be the perfect entrant for this year's Photoblogging competition.
We've got the award-winning photographer and blogger, Monica from The Travel Hack on board to judge the best photo as well the CEO of Process Films, Matt Pain, and George Gabriel, CEO of Olympic Holidays.
The only requirements are that a) your sunset is from the Mediterranean and b) that you mention Olympic in your post. The best sunset snap will win a luxury gold package Olympic holiday and the chance to snap more great photos for your blog!
Would you like to enter? Familiarise yourself with the competition page, and get digging for your perfect sunset snap!
Prizes:
7 night holiday for two people including flights and transfers to an Olympic Gold 4 or 5 star property in Greece, the Greek Islands or Cyprus. The winner will be able to select their chosen hotel from one of four offered, and flights will depart from either Manchester or Gatwick. Dates of travel exclude 16 July to 02 September 2016, but must be concluded before 15 October 2016.
Eligibility:
Sunset photography competition for UK Bloggers
Copyrights & Usage Rights:
Entrants grant Olympic the licence to use their submissions connected with the challenge, including but not
limited to post-promotion publicity and the opportunity to offer the images to the media
USAGE RIGHTS: Entrants grant Olympic the licence to use their submissions connected with the challenge, including but not
limited to post-promotion publicity and the opportunity to offer the images to the media
Theme: