SPIE Annual International Day of Light Photo Contest
$4750 in cash prizes for photos featuring light.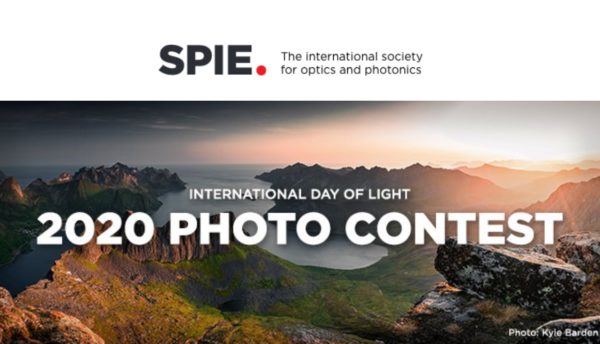 The SPIE Annual International Day of Light Photo Contest is being held to raise awareness about International Day of Light and the vital role that light and light-based technologies play in daily life.
The photo contest is open to people of all ages, both amateur and professional photographers.
The theme of the photo contest is: A World of Light: The Vital Role That Light and Light-Based Technologies Play in Daily Life.
Examples of photo content includes, but is not exclusive to, artistic images that depict:
• Light technology such as lasers, LEDs, etc.
• Various properties of light and how it interacts with the atmosphere, nature, and materials
• Images created with light technology such as telescopes and microscopes
• People interacting with light and/or light technology
• The betterment of the human condition with light
SPIE is a not-for-profit international professional society that supports scientists and engineers in the fields of optics and photonics. Learn more about SPIE at http://SPIE.org. SPIE is a supporter of the UNESCO International Day of Light.
Prizes:
First Prize: US $2500
Second Prize: US $1000
Third Prize: US $500
Technology Prize: US $750
Youth Prizes: Surprise gift box of SPIE Merchandise
Eligibility:
The photo contest is open to people from age 13 and up, both amateur and professional photographers, except employees of SPIE and optics.org, their immediate families, the contest judges, and consultants/contractors of SPIE. Immediate family is defined as all grandparents, parents, spouses, siblings, children, grandchildren, in-laws, or anyone living in the SPIE or optics.org employee's household. Entrants are subject to all applicable federal, state, and local laws and regulations. Contest is void where prohibited by law.
Copyrights & Usage Rights:
Each entrant grants SPIE a royalty-free, worldwide, perpetual, non-exclusive license to display, distribute, copy, and reproduce in any medium images submitted to the photo contest, and to use the images in derivative works such as posters, articles, or via any means or form of dissemination. SPIE will include full credit to the photographer any time an image is used. SPIE may allow cooperating organizations to use images to promote the International Day of Light, or other purposes in alignment with the SPIE educational purposes. Youth contestant images will not be shared with cooperating organizations. No images will be used for commercial purposes.
Theme: