SPIE International Day of Light Photo Contest 2023
$5500 in cash prizes for photos featuring light and light technology
Deadline: 16 September 2023
Entry fee: Free
Submit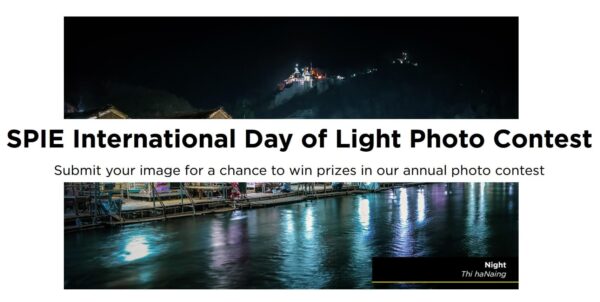 The SPIE Annual International Day of Light Photo Contest is being held to raise awareness about International Day of Light and the vital role that light and light-based technologies play in daily life.
The theme of the photo contest is: A World of Light: The Vital Role That Light and Light-Based Technologies Play in Daily Life.
Examples of photo content includes, but is not exclusive to, artistic images that depict:
• Light technology such as lasers, LEDs, etc.
• Various properties of light and how it interacts with the atmosphere, nature, and materials
• Images created with light technology such as telescopes and microscopes
• People interacting with light and/or light technology
• The betterment of the human condition with light
Prizes:
First Prize: US $2,500
Second Prize: US $1,000
Third Prize: US $500
Technology and Science Prizes (2 available): US $750
Youth Prizes: Surprise gift box of SPIE merchandise
Eligibility:
In all areas of the world, except where void. Two categories are available: Adult (18 years and older), and Youth (13-17).
Copyrights & Usage Rights:
Photograph submissions will be published in various SPIE publications, online, other printed materials, displayed at SPIE conferences and exhibitions, and with cooperating organizations that are promoting the International Day of Light. The intent is to draw attention to light and light technologies for educational purposes. Credit will be given to the photographer. No images will be used for commercial purposes.
Theme: