Storm Photos of the Year 2023
A true storm photography contest run by storm photographers!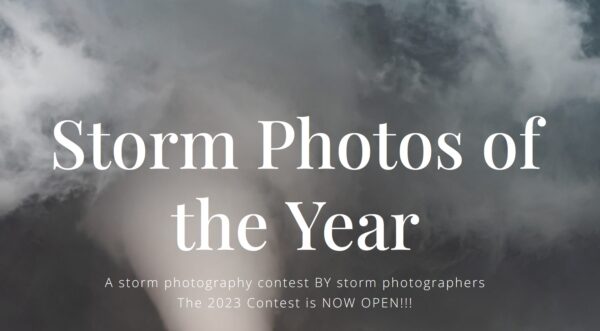 The first true storm photography contest! Our purpose in creating Storm Photos of the Year, or what we affectionately call "The Stormys", is to reward incredible storm photographers around the globe for their hard work every year with a photography contest made specifically for them! From Australia to Italy to Canada to Argentina to the United States and a million other places, storm photographers are capturing astounding images that deserve to be recognized.
We also are out to break the mold of other photography contests out there, which is to lock you into horrific terms of use agreements so that you are terrified your image will end up on a billboard somewhere solely because you entered it into a contest.
The images are yours. Not ours. Our only hope is to use them to promote you, your work and our little contest here. That's the end of the story. You can read our entire rules and guidelines.
Finally, we are proud of our judges. They know storms. They chase storms. They are photographers themselves. They know what it takes to get the images you are submitting and what makes them special.
We can't wait to see what you send our way!
Prizes:
Photo of the Year/Photographer of the Year: $750 and a 20×30 Metal Print of Winning Image supplied by ImageCraft. In the case of the Photographer of the Year, the winner will choose which of their winning images to have printed.
Photo of the Year AND Photographer of the Year will also win a WeatherFlow Tempest Weather Station
Second Place Prizes: $200
Third Place Prizes: $100
Tornado of the Year will win $500 and a Lightning Trigger IV
Eligibility:
Anyone
Copyrights & Usage Rights:
We want our contest to be different. Most of the big, commercial contests out there make you sign your life away and have big terms of usage agreements that essentially give them the rights to use your image commercially for any means they want. We want Storm Photos of the Year to be a safe space for photographers to enter their work and know it will never be used for anything other than promotion of the artist and the contest.
How your images will be used:
Any image posted online will be Watermarked with the Storm Photo of the Year logo in the bottom corner and artist name will be credited wherever possible.
Images will be shared on our Instagram channel (@StormPhotoContest), Twitter (@TheStormys), Facebook (@StormPhotosOfTheYear) and our blog/website/YouTube (The critiques) to help promote the contest and the photographer.
Any image we post on social media, such as Instagram or Twitter, will tag/mention the photographer so long as they provided us usernames and also have accounts there. If you provide another link to your work, like an online gallery, website, YouTube, etc., we will endeavor to link to those instead where we can.
The goal of the contest is to not only provide prizes and recognition to the photographer, but also as much publicity as we can for everyone. Therefore the contest results and images may be shared by media outlets when winners are announced and we will ensure that any publications that do write about the contest use only the watermarked images with corresponding artist credit alongside. Since it is a public contest, sharing the results of it online by media would be considered fair use.
Theme: