Telling Tales
Our juror for the Telling Tales is Blue Mitchell.
Deadline: 2 October 2022
Entry fee: $35/ 5 images
Submit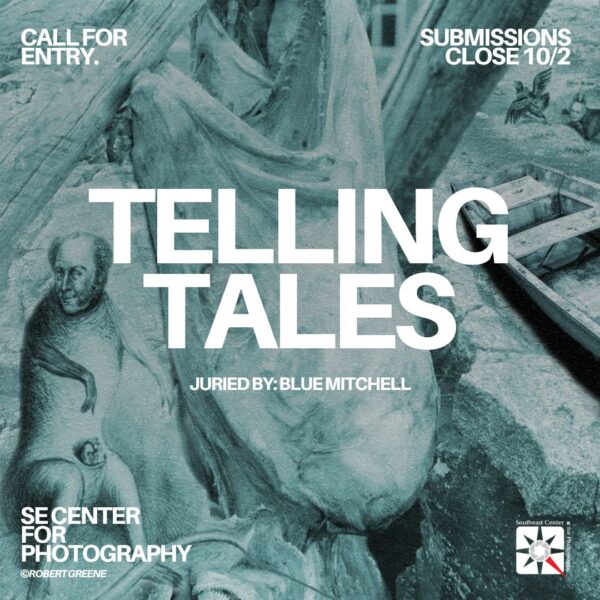 For our entire lives we've been told every picture tells a story. A Single image can have a powerful storytelling impact, change the way we see, and leave a lasting impression. Often, a signature image or motif is associated with an artist or photographer or project. We're looking for images that stand on their own, able to tell a story without supporting images.
Our juror for the Telling Tales is Blue Mitchell. Mitchell is an artist and independent publisher. Based in Portland, Oregon, he has been involved with many facets of the photographic arts.
Mitchell states " I'm nostalgic. I am deeply interested in photo and art history, yet I'm not crippled by what's already been done, 'cause everything has. I do not limit my photographic toolbox. I have no problems ruining my art… for its own sake. That includes film and prints… all those lovely, precious artifacts."
Prizes:
35-40 Selected images will hang in the SE Center's main gallery space for approximately one month with the opportunity to be invited for a solo show at a later date. In addition, selected images are featured in the SE Center social media accounts (FB, IG, Twitter) and an archived, online slide show. A video walkthrough of each exhibition is also featured and archived.
Eligibility:
All ages, All locations
Copyrights & Usage Rights:
Artist retains all copyrights to their own images. Artists whose work is chosen for exhibition inclusion grant the SE Center for Photography permission to use images for promoting the exhibition, artist, or SE Center and its programs, and current and past exhibitions. Images may be placed on social media for promotion and features. Artists grant usage as stated without further compensation.
Theme: