Texas Photographic Society: Listening to the Land
Submit your images of the Texas landscape and rural environment now!
Deadline: 6 April 2020
Entry fee: Member $30 for 5 images; Non-Member $38 for 5 images; $6 for each additional image
Submit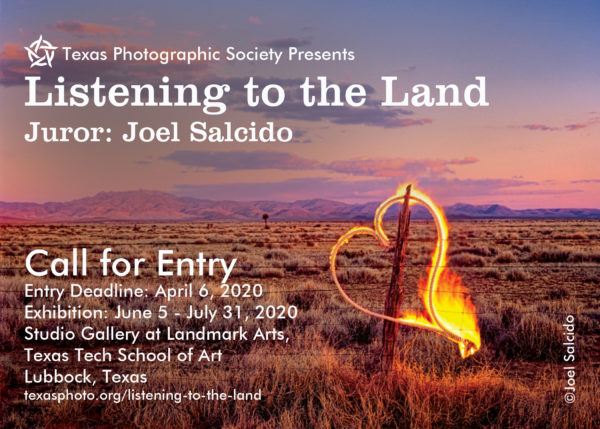 Texas Photographic Society's Listening to the Land is a photo competition juried by Joel Salcido, renowned fine art photographer and former photojournalist based in San Antonio, Texas. Listening to the Land seeks photographic-based work that spotlights Texas' natural resources, geography, agriculture and ecological environment while also capturing the essence of its rural communities and culture. All entries must be submitted via CaFe.
IMAGE REQUIREMENTS
Please submit JPG files only, minimum of 1200 pixels on the longest side and 5 MB maximum. For each image you will need to provide the image title and the process used (Archival Digital Print, Silver Gelatin Print, Platinum/Palladium Print, Wet Plate Collodian, etc.)
ABOUT THE JUROR
Joel Salcido is a fine art photographer, author and former photojournalist based in San Antonio, Texas. His fine art photographs are in the permanent collections of museums and institutions. His book, The Spirit of Tequila, was released in November of 2017 by Trinity University Press.
JUROR'S STATEMENT
How does photography define you?
Most serious photographers eventually develop a technical skill set that helps them translate the language of light into a visual commentary. However, not all photographers have an acute awareness of how their innate human sensibilities will transcend into their photographs.
That is to say, photographs can be technically perfect but without a soul.
My constant personal goal as a photographer is to accomplish the nearly impossible task of creating images that transcend time… I mostly fail, but sometimes I succeed. That is the driving force behind my photography. For me, photography works at three levels: the literal, the aesthetic and the spiritual. If a single image can carry the weight of those three elements, you should have a photograph that likely can withstand the test of time and therefore become transcendent.
Beyond a spectacular creative aesthetic, will you dig deeper into yourself and share something that comes from the depth of who you are? Will you go beyond the surface of the image? Will you take the easy or the difficult route; are you being honest? What discomforts did you endure? How fresh is your visual palette?
Your images of the rural environment should reflect your deep, emotional and thoughtful relationship with your subject, whether it be the majestic landscape, its people or the mere abstract.
In essence I will be looking for beauty, YOUR version of beauty. Suerte! — Joel Salcido
Prizes:
First Place = $500
Second Place = $300
Third Place = $200
Up to 5 Honorable Mentions may be awarded
The juror will select 50 images for the exhibition. The selected images and artists will be showcased on our website gallery as well as the Studio Gallery at Landmark Arts in Lubbock, TX, and promoted to our extended TPS community including members and photo/social media contacts.
Eligibility:
Open
Copyrights & Usage Rights:
You retain all rights to your images. If your image is selected for the exhibition, you grant Texas Photographic Society (TPS) the right, in perpetuity, to use and display your image, image title and process, your name, city, state and country of residence for TPS publicity and promotion. Permissible use includes the display, reproduction and distribution of said information on the TPS website, in TPS exhibitions, presentations, program promotions, artist features, fundraising initiatives and publications, and on social media networks, without further contact from TPS. Please note that we may have to crop images to meet space/proportion requirements for promotional platforms.
TPS will not be held responsible for loss, theft, damage or replacement, whether caused by the negligence of its officers, members or others. TPS is not liable for damage during shipping. Current non-members of TPS who pay a TPS member level entry fee without joining TPS at the time of entry, will be disqualified. All entry and membership fees are non-refundable. Submission entry and payment signifies understanding and agreement to all of the above terms and conditions.
Theme: