The Constructed Image – an international juried photography exhibition
Praxis Gallery open call for fine art photos of constructed scenes
Deadline: 16 October 2023
Entry fee: $40.00 for submitting up to five images, $5.00 for each additional image
Submit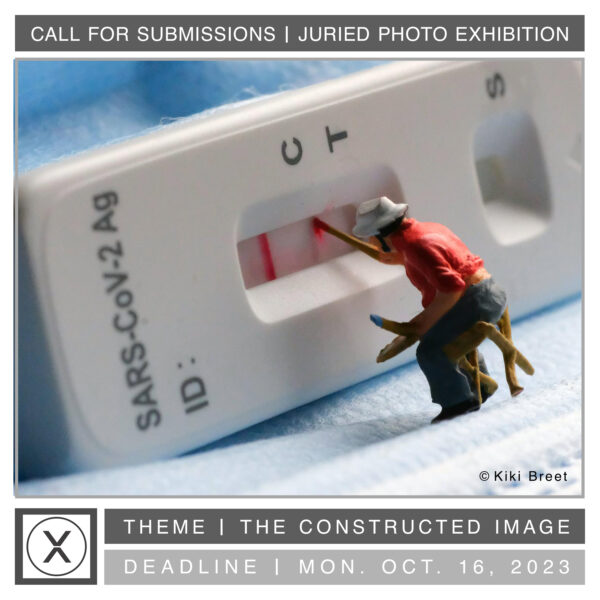 The concept of the constructed image encapsulates a deliberate orchestration of visual elements to convey narratives, emotions, and artistic visions. This theme explores the intricate interplay of subject, composition, props, lighting, and environment in crafting captivating photographs, at any scale. Through meticulous arrangement, photographers construct scenes with purposeful backgrounds, carefully chosen color palettes, and thought-provoking poses, blurring the line between reality and imagination.
Praxis seeks the submission of photographic art that delves into the fusion of creativity and storytelling, showcasing the power of constructed elements to shape evocative, multidimensional compositions that resonate with viewers on a profound level. All capture types, genres, black & white and color, traditional and non-traditional photographic and digital post-production processes are welcome for submission.
JUROR | Nicole Houff
Nicole is a Minneapolis photographer who lives in a plastic world inhabited by an infamous resident. Her love for the "even less accurate than Barbie" realities that 1950's and 60's entertainment portrays complements her stoic muse and her sense of humor. Nicole's photographs have strong design and color elements, often inspired by mid-century aesthetics.
Her work has been shown at a variety of galleries, festivals and exhibits including Hopkins Center for the Arts, Minneapolis Photo Center, Praxis Gallery, The Knockdown Center, Gamut Gallery, Intermedia Arts, Nash Gallery, Robbin Gallery, Minnesota State Fair, Uptown Art Fair, Edina Art Fair and the Stone Arch Bridge Festival. Nicole has a BA from Macalester College with a major in Studio Art, and an associate degree from Minneapolis Community and Technical College in Photography and Digital Imaging. Learn more about her practice at nicolehouff.com.
Prizes:
Up to 38 images will be selected by the juror for exhibition at Praxis Gallery. A Juror's Choice and five Honorable Mentions will be awarded and featured in the exhibition, the printed show catalog, and the online exhibit gallery. Juror's Choice receives free entry into 3 juried calls of their choice, and a complimentary exhibit book.
Eligibility:
International, all accepted. Entrants must be 18 years of age or older. Submitted images may not have been exhibited at Praxis Gallery within the past year.
Copyrights & Usage Rights:
Artist retains all copyrights to their own images. Artists whose photographs are accepted for exhibition grant Praxis Gallery the nonexclusive right to use, print, and reproduce submitted digital files for the purpose of the exhibition, promoting the artist, promoting related programs and subsequent display on Praxis Gallery's website, social media, and online exhibition archives. The artist's name will be included wherever the photographs are displayed.
Theme: