The Lumen Prize 2019
Calling all artists engaging with technology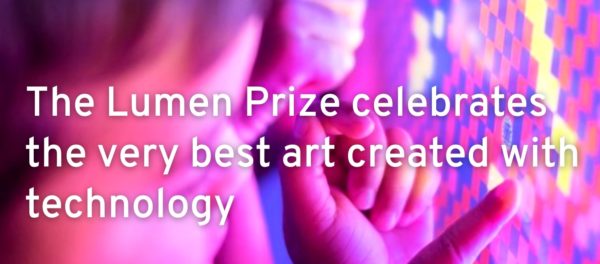 The Lumen Prize for Art and Technology celebrates and promotes artists working with technology globally through its annual juried competition and exhibitions.
Now in its 8th year, The Lumen Prize has already awarded over $70,000 in prize money. Through our parent, Lumen Art Projects, we have staged over 45 exhibitions in 15 cities worldwide, including London, New York, Shanghai, St Petersburg, Beijing, Cardiff and Athens.
Prizes:
Our Prize Fund in 2019 is $11,000.
The 2019 Prizes are:
Gold Award ($4000)
Moving Image ($1000)
Still Image ($1000)
XR ($1000)
3D/Interactive Award ($1000)
The BCS Artificial Intelligence Award ($1000)
The Rapoport Award for Women in Art and Technology ($1000)
Photomonitor Student Prize ($500)
People's Choice Award ($500)
All longlisted artists, finalists and award winners are eligible for Lumen exhibitions, commissions and events.
Eligibility:
Individuals may enter as many works as they like.
Copyrights & Usage Rights:
Each entry does not infringe the copyrights (and related rights), trademarks, design rights, or any other intellectual property rights of any third person or entity, or violate any person's rights of privacy or breach the contract rights of any third party.
The entry should not include:
• trademarks owned by third parties.
• copyright materials owned by third parties.
• names, likenesses, voices or other characteristics identifying celebrities or other public figures, living or dead.
• material for which the entrant has purchased or secured the rights to use stock images.
• material which contain any commercial content that promotes any product or service unless the appropriate written consents from the relevant rights owners have been received.
• In the event any such consent either has not been obtained and/or are not provided to the Organiser, the Organiser has the absolute right to remove the entry. If there is an artistic
reason for including material of this sort, please make this clear in the details of how the work was created.
Theme: