The RAW Talent Competition
Win a two week trip to Thailand to shoot with the Rawpixel team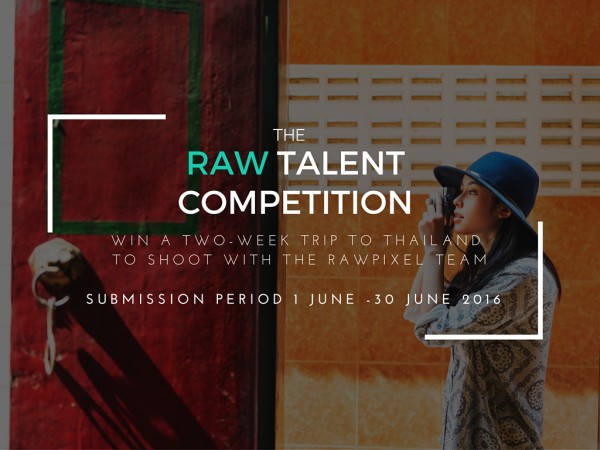 Rawpixel is growing like mad! We're one of the world's top creators of royalty-free images and in order to keep producing the most outstanding photography and design resources possible, we need the best talent in the world. Don't miss this chance to get your work seen by a stellar creative team with tons of future opportunities - not to mention your shot at a free holiday in Bangkok.
The competition is made up of two rounds:
Round 1 - submit 5 images that illustrate one of the following concepts; Diversity, Life+Style or Surroundings AND submit 5 of your best all-around photos. At the end of the submission period (1 June - 30 June 2016), the Rawpixel Creative Directors will select the best entries to move on to Round 2.
Round 2 - the selected photographers will be invited to participate in one of several photoshoots held in the UK during July or August 2016. During the UK shoots, we'll evaluate your photography skills, how well you work in a team, how you perform at a professional photoshoot, and your all-around awesome self. One photographer will be chosen as the winner of a place on the Rawpixel shoot team for two weeks in late August or early September in Bangkok, Thailand.
Prizes:
One winner will receive a two-week all-expenses-paid trip to Bangkok, Thailand where he or she will participate in planning and executing shoots with the Rawpixel team and get valuable photography training and experience. In addition, we'll keep all entrants in mind for future paid shoots in the UK.
Eligibility:
Who Open to photographers over the age of 18 willing and able to shoot in the UK in summer 2016 and beyond. We're especially keen on discovering and nurturing emerging talent. Students and recent grads encouraged – get your work seen by a rapidly expanding global digital media company!
Copyrights & Usage Rights:
Entrants will retain the copyright of images submitted for round one; however, the entrant agrees to allow Rawpixel Ltd to use these images for promotional purposes.
Rawpixel Ltd will retain the copyright of all photos taken during competition shoots in the UK and Thailand shoots.
Theme:
Aerial Architecture Conceptual Digital Art Abstract Documentary Fashion Environmental Fine Art Landscape Macro/Micro Multi-categories Nature Panoramic People Seascapes Sports Street Travel Underwater Wildlife Urban Portrait Photomanipulation