The Royal Society of Biology Annual Photography Competition 2019
Photographer of the Year (18 and over) - £1,000 top prize
Deadline: 26 July 2019
Entry fee: Free
Submit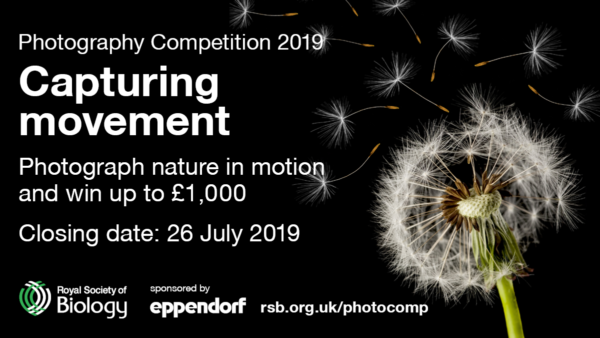 The Royal Society of Biology annual photography competition invites amateurs to submit photographs on a particular theme. Capturing movement' is the theme of this year's competition. Life on Earth is constantly changing, and we invite you to photograph nature in motion.
You might wish to explore the locomotion and migration of animals or the growth and colonisation of plants and fungi. Your photograph could depict the act of flying, hunting, playing and swimming, or the bones, muscles and other biological structures that help perform these actions. We also welcome entries that explore this theme at the cellular or molecular level, illustrating the dynamic world only revealed to us with a microscope.
Judges:
Tim Harris - Nature Picture Library and Bluegreen Pictures
Tom Hartman - program chair of MSc in Biological Photography and Imaging at the University of Nottingham
Alex Hyde - natural history photographer and lecturer at The University of Nottingham
Linda Pitkin - underwater photographer
The competition is free to enter and is open to Society members and non-members. Entrants must not be professional photographers. For the purposes of this competition, a professional photographer will be considered to be someone who makes more than half their annual income fromphotography-related work.
The competition asks photographers to put the welfare of animals first and to safeguard their environment and that they do not do anything to injure or distress animals or destroy the environment in their attempt to get their photographs. If the Organiser or the judges suspect that a picture was taken using cruel or unethical practices, the entry will be disqualified.
Prizes:
There are two categories in the competition, each with a cash prize:
Photographer of the Year (18 and over) - £1,000 top prize
Young Photographer of the Year (under 18) - £500 top prize
Eligibility:
There are no restrictions on the type of camera used but it should be noted that part of the judging criteria will be technical excellence and it is therefore recommended that you use the highest possible quality setting on your camera. The original file should be as large as you can achieve with your equipment.
Copyrights & Usage Rights:
The copyright of the entire image must belong to the entrant. Entrants will retain copyright in the photographs that they submit. By entering the competition entrants grant the Organisers a non-exclusive, worldwide, royalty-free licence to use, reproduce, and publish images entered into the competition for the purposes of: a) Publicising and promoting the competition, b) The Organisers' activities, including within their publications, website and social media channels.Contact the Organisers at competitions@rsb.org.ukif you have any questions about use of images.
Theme: