The Sacred Fire Photography Competition
Open to all photographers worldwide.
Deadline: 14 September 2015
Entry fee: Free
Submit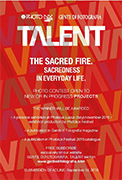 "The sacred fire, sacredness in everyday life" is the theme of the first edition of the photography competition organised by Gente di Fotografia – italian periodical specialised in photographs and photographic culture – in cooperation with Photolux Festival.
The competition focuses on the link between spirituality and photography.
Relaunching the sacred may seem paradoxical in a world that isprogressivelypushed by agnostic uncertainties. However, the beginning of the Third Millennium seems characterised by the return of human fragilities that we thought buried under the shield of scientific progress. Therefore, it is increasingly necessary to rediscover reliable values, which can act as a compass in the difficult journey of everyday life. Between lights and shadows: from intensemystical ecstasy to the remains of thousand-year old superstitions, through those deeply rooted habits which, in the belief of celebrating the sacred, actually flatter the profane, always crouched down in the unsuspected clefts of our insecure conscience.
Prizes:
Exhibition at PHOTOLUX 2015 (November 2015). Production of the exhibition curated byPhotolux Festival
Publication on Gente di Fotografia magazine
Publication on Photolux Festival 2015 catalogue
1 night accommodation in a single room in Lucca (italy) on the occasion of the prize awarding ceremony
The winner to be awarded must guarantee his/her presence at the event.
There are no cash alternatives available for prize winners.
The travel costs to and from Lucca are at the expense of the winner.
Eligibility:
Open to all photographers worldwide.
Copyrights & Usage Rights:
The author retains full ownership of the photographs and grants permission to the sponsor to use, reproduce and publish themin all media without any charges (commercial purposes excluded) and with no limits of time; including, but not limited to, the sponsor and Photolux Festival websites, social networks, newsletters, printed material (flyers, posters, catalogues) and onPhotolux Festival catalogue.
All authors hereby state that no payment will be claimed for possible publication of the photographs on magazines, newspapers, websites and/or social networks.
Photolux Festival retains full ownership of the printed photographs used for the exhibition. They can be requested by the author or by Gente di Fotografia magazine to organise other exhibitions.
Theme: